New Orleans attractions
More things to do in the area
Showing 11-20 of 64 attractions in New Orleans
---
The infamous Bourbon Street, also known as Rue Bourbon, conjures up images of endless partying, drinks of all shapes and sizes, strips clubs, bachelorette parties, and of course, Mardi Gras. The Las Vegas comparisons are well deserved with enough alcohol and revelry to rival Sin City for the title of America's party capital. Outside of Mardi Gras season, visitors flock to Bourbon Street for its well-known drinking establishments including the Old Absinthe House, Lafitte's Blacksmith Shop, Johnny White's Bar, not to mention Pat O'Brien's- home of the hurricane cocktail and dueling piano bar.
More
40 Tours and Activities
---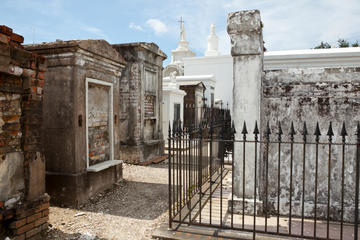 The St. Louis Cemetery, New Orleans' most famous resting place, is actually made up of three cemeteries. More than 100,000 bodies lie in Saint Louis Cemetery #1, which takes up just one square block between St. Louis and Conti streets just outside the French Quarter. A bit of a morbid attraction, the cemetery has been a lauded place of burial since it opened in 1789, making it the oldest of the city's three Roman Catholic St. Louis cemeteries. What makes it both creepier than your average cemetery and way more dramatic is that all the graves are above ground vaults, most of which were built in the 18th and 19th centuries. Many notable New Orleans residents lie here, including Homer Plessy and Etienne de Boré. Famous Voodoo priestess Marie Laveau is also rumored to be entombed here. St. Louis Cemetery #2 is located on Claiborne Ave., just a few blocks from St. Louis Cemetery #1.
More
34 Tours and Activities
---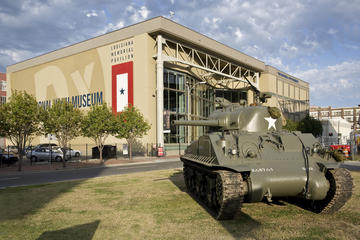 Located just off Highway 90 in the heart of the Warehouse District lies one of the most enticing, modern, and comprehensive World War II museums in all the country; New Orleans own World War II Museum. Rated a 29/30 on Google and scoring high marks across every major review site, the National World War II Museum (also known as the D-day Museum) explores the lives of the American men and women who took part in World War II through letters, recruitment posters, weapons, film, and even fighter plane replicas and a real Sherman tank. Famous for its interactive exhibits, the New Orleans WWII Museum decided to take things one-step further and offer a 4-D experience in which chairs vibrate and shake, fog and lights bring the on-screen experience to life in something akin to a history-laden Universal Studios ride. In-line with its on-going efforts to bridge the gap between entertainment and education, the WWII Museum offers its guests a chance to visit the Stage Door Canteen.
More
16 Tours and Activities
---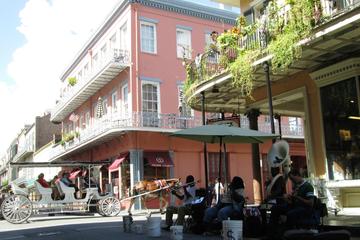 Royal Street often plays second fiddle to its more-recognizable bigger brother Bourbon Street. And while Bourbon Street has its place and charms, there is a lot more going on along Royal Street for those with a more casual disposition and a more discerning eye. Known for its art galleries, restaurants, and curio shops, Royal Street is just a block away from the hustle of Bourbon Street, but retains all of the French Quarter character and charm. A shopper paradise, the casual explorer of Royal Street will note the French and Spanish architecture, while those with a photographer's eye will likely fall in love with the wrought ironwork, the fern-filled courtyards, and the cobblestone and brickwork. Royal Street has something for everybody, which is why many prefer it to Bourbon-just one block over, but a whole world of difference. Take a stroll down Royal Street to see why those that come to the Vieux Carrie fall in love with Royal Street.
More
25 Tours and Activities
---
Few other places on earth can claim a cemetery as both an interesting tourist destination and a cultural icon. New Orleans' elevation is technically a negative number, so the early settlers to the area had trouble with the bodies of their recently interned washing away come the summer rains. The settlers quickly learned that the only way to properly keep their dead in place was to build raised cemeteries, and thus the tradition of New Orleans' raised cemeteries took hold. Lafayette Cemetery is the oldest cemetery in New Orleans, and this nearly 200 year-old attraction has a history that goes beyond the raised cement graves. Ripe with ghost stories and notable New Orleans elites, the Lafayette Cemetery, as any tour guide will tell you, holds the remains of only "Americans," while the also popular St. Louis Cemetery houses what is left of the Creoles.
More
38 Tours and Activities
---
Located in a renovated molasses warehouse dating back to the 1800's, the New Orleans School of Cooking is the place to go to learn the basics of Louisiana-style cooking. Cajun / Creole teachers instruct participants on how to make some of New Orleans' signature dishes like Gumbo, Jambalaya, and Pralines. The New Orleans School of Cooking has been in operation since 1980 and offers several different courses – both for individuals and large groups. The most popular is the open demonstration class where you sit back and learn how the signature dishes are made, the history of Louisiana's culinary influences, and how these dishes came to be so representative of the state. The best part of your demonstration? You'll get to taste everything made in the session and take the recipes home with you.
More
2 Tours and Activities
---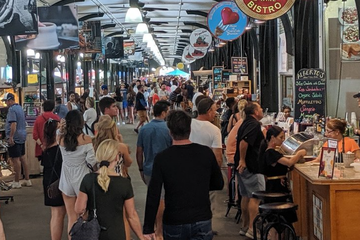 Often considered the heart of the Quarter, the New Orleans French Market is the grand bazaar that serves as much as a cultural meeting place as it does a market space. Always something to see, smell, eat, or purchase, the French Market is both a farmer's market and a flea market that comprises over three centuries of history in six city blocks. Located along North Peters Street and bordered by the Mississippi River, walking the French Market is the best way to get a real feel for both the history of the area and its culinary predilections. Eat spicy boiled crawfish, listen to the bands that play on the corners, get a coffee at the famous Café Du Monde, or shop the local boutiques and curio stalls to your heart's content. There's nothing like in anywhere, and walking the streets you feel that New Orleans wouldn't have it any other way.
More
35 Tours and Activities
---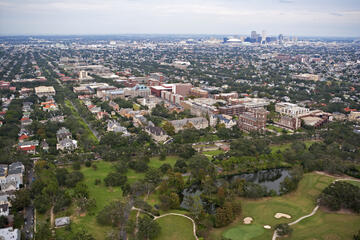 If stone bridges, botanical gardens, sculpture, theme parks, hundreds of centuries-old oak trees and numerous waterways are indicative of a good park, then consider New Orleans City Park one of the best city parks in the world. Over 1300 acres of sprawling land comprises this park, making it the sixth-largest urban park in the United States and a routine stop for family fun. Distinguished by a large menu of activities, whether it's stopping in the Carousel Gardens Amusement Park, renting a boat or bike to see some preserved bayou, walking the sculpture gardens, golfing, playing tennis, fishing, or just relaxing in the park on a picnic, a day spent in New Orleans' City Park is always a good time.
More
33 Tours and Activities
---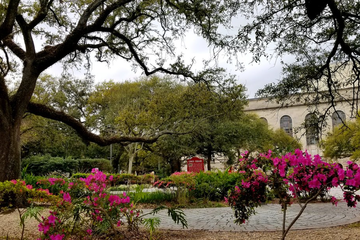 Located on the outlying border of the famous French Quarter, the Louis Armstrong Park is a lovely 32 acre haven, full of beautiful grassy knolls, lagoons, and cultural auditoriums and structures that are everything jazz. In the southern corner of the park is the historic Congo Square, a cobblestone laden open space that was used in the 17th century as a gathering point, where African-American slaves came to socialize and make music, one of the earliest signs of African influence in jazz. Behind the square lay a plethora of buildings such as the Mahalia Jackson Center for the Performing Arts, Jazz National Historical Park, and the recently renovated Perseverance Hall, where there is now a jazz exhibit and a line of scheduled performances throughout the year. All these places and more are a testament to Louisiana's long and prospering music tradition in the face of oppression and hard times.
More
31 Tours and Activities
---