There was once a time when the town of Berrima was a bastion of Australian expansion. In the 1830s, when the coastal residents of New South Wales began exploring and populating the hills, Berrima was chosen as a prime site for establishing an inland town. Time, however, would be cruel to Berrima, and when the railroad line ended up bypassing town, over a century passed without a single new building being constructed anywhere in town. Berrima, it seemed, had been left to die—and that's what makes it so fascinating today.
Located halfway between the cities of Sydney and Canberra, modern-day Berrima has become such a time capsule that it is laden with small town charm. The sandstone buildings are Australia's best-preserved example of historic Georgian architecture, and the original courthouse and Berrima Gaol are two of the town's main attractions. So, too, are the locally-run jam shops, craft boutiques, and welcoming roadside cafés, and a collection of nearly a dozen vineyards now crawl through the surrounding hills. It's an ideal town for a rest or stop over when driving between Sydney and Canberra, as well as an historic and scenic day trip when staying in either city.
Practical Info
Berrima is located 1 hour and 40 minutes from Canberra and 90 minutes from Sydney. It's also accessible by bus or train, and the journey from Canberra on public transportation can take a little over four hours.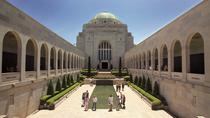 111 Reviews
Explore beautiful Canberra, Australia's capital city, on a full-day trip from Sydney. Visit famous sights including the Australian War Memorial, Parliament ... Read more
Location: Sydney, Australia
Duration: 13 hours (approx.)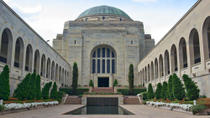 59 Reviews
Enjoy this comprehensive day tour of Canberra, Australian's capital city. Travel south by coach from Sydney through the Goulburn region, one of Australia's ... Read more
Location: Sydney, Australia
Duration: 13 hours (approx.)