Arguably the most luxurious department store in the city, Saks Fifth Avenue is the result of a partnership between two powerful New York City department store families: the Saks' and Gimbel Brothers. In September 1924, Horace Saks and Bernard Gimbel ...
Tours & Tickets
A walking tour through the heart beat of NY. You will get an adrenaline rush just being here.
Location: New York, New York
Duration: 2 hours 30 minutes (approx.)
It is time again to celebrate Christmas, Hanukkah and the New Year as Midtown Manhattan lights up like no other place in the world.
Location: New York, New York
Duration: 2 hours (approx.)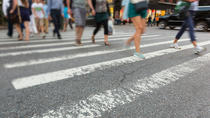 The Midtown Manhattan walking tour gives visitors an insider's view into NYC's most expensive pieces of real estate: The Empire State Building, Grand Central ... Read more
Location: New York, New York
Duration: 3 hours (approx.)