Strawberry Fields, John Lennon Memorial
Located in Central Park, Strawberry Fields encompasses 2.5 acres dedicated to Beatles band member John Lennon. Opened in 1985, five years after Lennon was murdered outside his home at The Dakota apartments, the memorial is named after The Beatles' hit "Strawberry Fields Forever." The focus of the memorial is a stone mosaic with inlaid tiles spelling out the word "Imagine," named after another famous Beatles' song. This is where you'll catch impromptu jam sessions by fans, especially on the anniversary dates of John Lennon's birthday on October 9 and death on December 8. It's also a place for vigils, such as after the September 11th attacks, as well as memorials for other beloved musicians. While the entire memorial is a place of peace, the Garden of Peace is particularly special, filled with plant life and rocks donated by 150 different countries for contemplative meditation.

To get to the memorial, visitors should enter at Central Park West at West 72nd Street. To get there using the subway, take the A,B,C,1,2,3 to 72nd Street.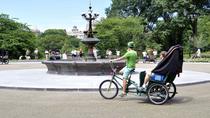 49 Reviews
Uncover magical Central Park during a private 1 or 2-hour pedicab ride. Visit popular sites including Strawberry Fields, Bethesda Fountain and Bow Bridge, as ... Read more
Location: New York City, New York
Duration: 60 minutes (approx.)
Peddle around and through some of Manhattan's most popular neighborhoods on this guided, 5-hour, New York City bike tour. Explore famed Central Park and learn ... Read more
Location: New York, New York
Duration: 5 hours 15 minutes (approx.)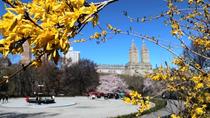 See the best that New York CIty's Central Park has to offer in as little or as much time as desired from the comfort of a private pedicab. Select from one of ... Read more
Location: New York, New York
Duration: Flexible
Get to know Central Park, the most visited urban park in the United States, on this private, 1- or 2-hour pedicab tour. Take a leisurely ride around this ... Read more
Location: New York, New York
Duration: 1- or 2-hour ride
A full day private tour that will let you touch the sites and experience New York like a New Yorker. With your private guide you will cover all the iconic ... Read more
Location: New York, New York
Duration: 8 hours (approx.)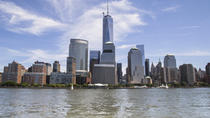 641 Reviews
See New York City's top sights on a full-day sightseeing tour that includes travel by bus and boat. View Times Square, the US Customs building, Federal Hall, ... Read more
Location: New York City, New York
Duration: 5 hours (approx.)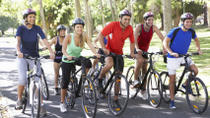 41 Reviews
Enjoy an easy bike ride through beautiful Central Park in New York City, admiring top attractions including Bethesda Fountain, Strawberry Fields, Belvedere ... Read more
Location: New York City, New York
Duration: 2 hours (approx.)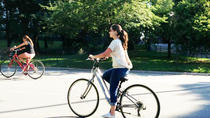 8 Reviews
Explore New York City like you never have before with a 2-hour guided bike tour through Central Park. A friendly, experienced guide will get you set up with a ... Read more
Location: New York, New York
Duration: 2 hours (approx.)
Pass by many historical landmarks of the Central Park by horse drawn carriage ride. This is a perfect activity for a romantic promenade or a fun ride with ... Read more
Location: New York, New York
Duration: 45 minutes (approx.)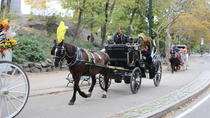 1 Review
Take a private horse and carriage ride through New York City's Central Park. Perfect for the holidays, anniversaries, birthdays, proposals, weddings and all ... Read more
Location: New York City, New York
Duration: Flexible