New York City RECOMMENDATIONS See all
Amish Country From New York City
By Viator, August 2016
No reviews, be the first!
Visiting Amish country from New York City is one of the largest reversals of environment possible found anywhere along the eastern seaboard. There aren't many places where you can find yourself grabbing a morning coffee among one of the most energetic city centers in the world—the pre-dawn hours still awash in a sea of neon lights—and only a few hours later be dining in a traditional farm house in a village with no electricity sharing the company of people living the same way as their ancestors did 200 years ago.
Such is the case, however, on a day trip to visit Amish country from New York City. While the state of New York is home to its own set of Amish villages in the western part of the state, the Amish country most accessible from New York City are the villages found in Lancaster County, Pennsylvania, a place where the honking of taxi cabs is replaced by the clip-clop of horses pulling your carriage down an old country road.
Learn the fundamentals of the Amish culture while being guided through fields and villages which still operate according to customs in line with the "old Amish order". Many of the tours to Amish country from New York City also include a home-cooked lunch with ingredients pulled straight from the farm and recipes held in the family for generations.
As a bonus, many of the tours to Amish country from New Your City also stop in Philadelphia for a couple of hours for a chance to tour historic sites such as the Liberty Bell, the "Rocky steps", and the venue which held the first ever American Senate and Congress.
A whirlwind of a day to be sure, the tours offer visitors the ability to begin their day in Manhattan, stand in the same room where Benjamin Franklin laid out the ideals for a nation, ride a carriage with Amish who live like it's still the 1800's, and then finish the day in a city regarded by many as the modern-day capital of the world. A tour literally unlike any other, spending a day visiting Amish country from New York City is a must for travelers looking to escape the city crowds and experience a unique wrinkle in America's fascinating history.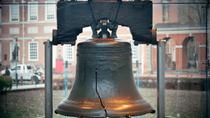 366 Reviews
Explore the countryside outside New York on a day trip to Philadelphia and Lancaster County, home of the Amish people. You'll drive through the beautiful ... Read more
Location: New York City, New York
Duration: 13 hours (approx.)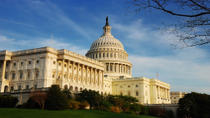 41 Reviews
While in New York, take a trip the City of Brotherly Love and the nation's capital on this 2-day tour through Philadelphia, Washington DC and Amish country. ... Read more
Location: New York City, New York
Duration: 2 days (approx.)