One interesting way to explore New York is by taking a helicopter tour. While a bus or walking tour allows you to come face-to-face with the city, a helicopter tour takes you above its massive skyscrapers, flashing lights and mix of architectural styles to take in its diverse beauty all at once. Best of all, you'll get great pictures without having to deal with NYC traffic.
While there are many great New York helicopter tours to experience, one top pick is a
Manhattan Sky Tour: New York Helicopter Flight
. One of the more budget-friendly options, the tour takes you over downtown Manhattan and provides a bird's eye view of some of the Big Apple's most iconic sites. Snap photos of the Statue of Liberty, Governor's Island, Ground Zero and the New York Harbor before turning around for postcard-worthy views of the Empire State Building, the Chrysler Building and the MetLife Building. You'll also take in some of New York's beautiful green spaces like Battery Park, Washington Square Park and Hudson River Park.
Another great New York helicopter tour is the
Complete New York, New York Helicopter Tour
, which flies you over all five boroughs. Along with informative commentary from your pilot, you'll take in the sites mentioned above as well as Yankee Stadium, Ellis Island, Central Park, Staten Island, the Brooklyn Bridge, St. John the Divine Cathedral, Columbia University, the George Washington Bridge and much more.
And for those who want a mix of experiences, a
NYC Night Helicopter Flight and Statue of Liberty Cruise
gives you the best of both worlds. The experience begins with a scenic cruise where you'll enjoy a Champagne toast in front of the Statue of Liberty and take in the dazzling Manhattan skyline at night. From there, you'll hop on a luxury helicopter for an evening helicopter flight, taking in rare views of the city at night. Notable points along the way include the Brooklyn Bridge, Statue of Liberty, Hudson River, Chelsea Piers, Chrysler Building and Ground Zero, to name a few.

Contributed by Jessica Festa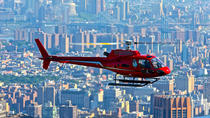 1033 Reviews
See New York's famous landmarks from the air on an exhilarating 15-minute helicopter tour. You'll come face-to-face with the Statue of Liberty as you fly above ... Read more
Location: New York City, New York
Duration: 15 minutes (approx.)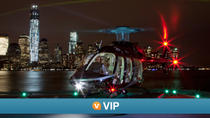 114 Reviews
Get unbeatable views of Manhattan from the sky and water on this exclusive VIP tour in New York City! Hop aboard a luxury helicopter and soar over the Brooklyn ... Read more
Location: New York City, New York
Duration: 1 hour 45 minutes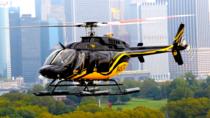 225 Reviews
See the entire City of New York on a comprehensive 25-minute helicopter tour of the Big Apple! As well as the most popular sights, such as the Statue of ... Read more
Location: New York City, New York
Duration: 25 minutes (approx.)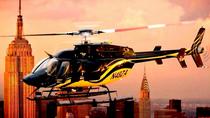 345 Reviews
Take to the skies on a helicopter tour to see New York's amazing skyline! On this scenic 18-minute helicopter flight you'll soar through the sky and ... Read more
Location: New York City, New York
Duration: 18 minutes (approx.)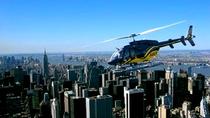 620 Reviews
Take to the Manhattan skies for an exciting helicopter tour of New York City! Enjoy spectacular aerial views of Manhattan on this memorable 12-minute ... Read more
Location: New York City, New York
Duration: 12 minutes (approx.)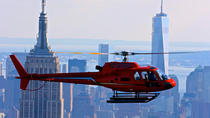 267 Reviews
Take the ultimate helicopter tour over New York! This 20-minute aerial tour covers all five Boroughs. You'll see the Statue of Liberty, Chrysler Building, ... Read more
Location: New York City, New York
Duration: 20 minutes (approx.)