New York City is the largest city in the United States and boasts one of the largest metropolitan areas in the world. The highlights are endless and you could easily fill a few days with museum visits, theater shows, sightseeing and shopping. 
One of the best ways to get a feel for the city known as the "Big Apple" is to take a bus tour, which allows you to see the highlights in a short amount of time, without worrying about negotiating public transit on your own, or putting in hours of walking on the streets of New York.
There are dozens of different bus tours to choose from, including those that focus on particular areas of the city, or particular themes, like architecture or even your favorite TV shows.
One of the most popular options is a
Hop-on, Hop-Off Tour
. This flexible bus tour allows you to create your own itinerary while tour guides on-board inform and entertain you between stops. Riding on a double-decker bus, you won't be fighting crowds in the subway to get from one site to the next and you'll enjoy unobstructed views of many the city's major attractions. With 50 possible stops, you can see as much or as little as you choose – and save your energy to enjoy the vibrant nightlife in the city that never sleeps! Tickets range from a basic 24-hour pass covering lower Manhattan to a 72-hour ticket that includes Harlem, Brooklyn and even a night tour. Other ticket options include cruises, attractions, meals or museums, such as the Empire State Building and the unique Guggenheim Museum.
For something a little more structured, consider a
full day guided coach tour
of the city. Over eight hours, enthusiastic guides will lead the way as an air-conditioned coach shuttles you from one major landmark to the next, including Times Square, the World Trade Center Site, Central Park and Rockefeller Center.
More specialized tours include a
tour of New York TV and movie sites
or a
tour of Manhattan neighborhoods
, including Chinatown, Little Italy and the historic South Street Seaport.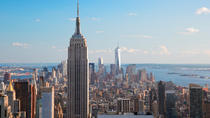 1081 Reviews
Choose from three exciting itineraries over 4, 6 and 8 hours and enjoy a comprehensive small-group guided sightseeing tour of New York City by minibus! On all ... Read more
Location: New York City, New York
Duration: Depends on option selected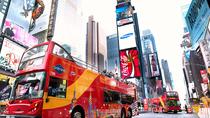 1814 Reviews
Create your own sightseeing itinerary with the New York City Hop-On Hop-Off Tour! A hop-on-hop-off bus tour is the ideal way to explore every corner of the Big ... Read more
Location: New York City, New York
Duration: Flexible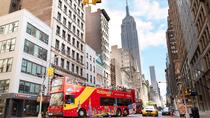 659 Reviews
Everything you need to see in New York with freedom and independence! Design your own itinerary of Manhattan, Brooklyn and the Bronx on a hop-on hop-off ... Read more
Location: New York City, New York
Duration: 3 days (approx.)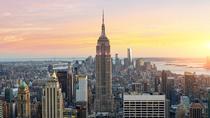 104 Reviews
See it all in 4 days with this New York City Shop, Hop and Top Experience including Woodbury Common and Observatory. An ultimate package that includes 4 days ... Read more
Location: New York City, New York
Duration: 4 days (approx.)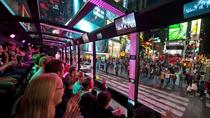 110 Reviews
Strap on your seat belt and prepare for THE RIDE , the most exciting entertainment experience to hit New York City! This dynamic and interactive part-show, ... Read more
Location: New York City, New York
Duration: 75 minutes (approx.)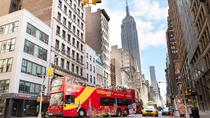 102 Reviews
The best way to see the city is with a hop-on-hop-off bus tour! Your 48-hour ticket includes four different loops: Uptown, Downtown, Brooklyn and the Bronx ... Read more
Location: New York City, New York
Duration: 2 days (approx.)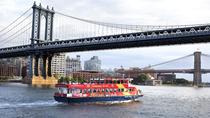 174 Reviews
Design your own itinerary with the New York City Hop-On Hop-Off Tour and Harbor Cruise. Tickets are valid for 48 hours, allowing you to set your own pace and ... Read more
Location: New York City, New York
Duration: 2 days (approx.)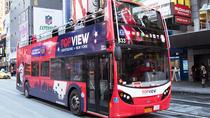 4 Reviews
See the sights of Midtown Manhattan in a glittering display of lights aboard a double-decker bus at night. This 2-hour loop covers Times Square, the Empire ... Read more
Location: New York City, New York
Duration: 2 hours (approx.)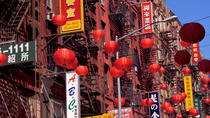 15 Reviews
Be escorted by one of the knowledgeable guides and be taken for a walk through the Manhattan, Chinatown, Little Italy and historic South Street Seaport. Opt ... Read more
Location: New York City, New York
Duration: 4 hours (approx.)