While New York City is one of the most energetic and popular tourist destinations in the world, locals and visitors alike can usually agree on the best thing about New York City as a whole. It isn't the shows on Broadway, strolling through Central Park on warm autumn day, or even the shopping which draws visitors from the around the world. 
It's the food.
As one of the largest cultural melting pots on the planet—as well as the point of entry for generations of American immigrants—the food scene in New York City is unsurpassed by anywhere else on the planet. But with so much food to try, where do you even start? 
Enter New York City pizza tours, which, as the name suggests, are companies which offer visitors the ability to tour New York through the lens of one of its most iconic foot items: pizza.
Sure, you could always wander aimlessly around New York City and ask cab drivers where they think the best pizza might be, or you could partake in a half-day pizza tour where trained professionals and New York City locals have already done all of the research for you. Learn the history of the New York pizza and how its roots are traced to Italian villages. Sample two, or three, or five varieties of pizza as you are versed on the history of the city itself. More than just the cheese and sauce, you also get a chance to walk through iconic New York City neighborhoods such as Brooklyn, Little Italy, Coney Island, and Greenwich Village.
Or, if visiting during the peak of the summer heat or the depths of a mid-winter blizzard, some New York City pizza tour companies even offer a chartered bus to transport you from one great pizza pie to the next. However you choose to spend the tour, be sure to pick the brains of the knowledgeable local guides who can not only answer all of your New York City travel questions, but plop a piece of steaming hot pizza pie down in front of you when they're through.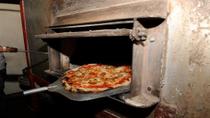 72 Reviews
Take a guided walking tour in New York City and taste pizza at three of Manhattan's top pizzerias along the way! Sample the pizzas of Little Italy and lower ... Read more
Location: New York City, New York
Duration: 2.5 to 3 hours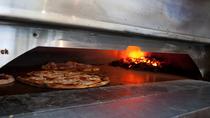 3 Reviews
Visit one of Brooklyn's most amazing neighborhoods for a tour of three incredible pizzerias. Get exclusive access behind the counter and witness some of the ... Read more
Location: New York, New York
Duration: 2 hours 30 minutes (approx.)