From Lagos to London, from Copenhagen to Caracas, rappers throughout the world freestyle in a Babel's worth of tongues over loops and samples, a sound with a million variations but still identifiable as hip hop. The sound which emerged from the Bronx in the late 1970s has grown in just over three decades to become a multi-billion dollar force which hasn't forgotten its roots in the streets. Words like 'bling' and 'gangsta' are part of everyday vocabulary, breakdance is key to modern choreography and the contemporary sidewalk shows the influence of hip hop culture from fashion to street art.

How did it all happen? How has hip hop developed in its birthplace and how has it in turn influenced the city? Spend the afternoon in Manhattan and the Bronx with a real Grandmaster and hear how early rappers turned funk and soul into something new, creating early hits like "Rapper's Delight". See the actual streets which spawned the look and the sound of hip hop and visit the Graffiti Wall of Fame in Spanish Harlem. Of course hip hop is a living artform so you'll not only see and hear hip hop culture, but get to try out your own skills as well.

Or you can head to Harlem and immerse yourself in neighborhood' rich, proud heritage, concentrating on the venues, clubs and stores which at first inspired, then played host to top hip hop artists, from the legendary Apollo Theater to Dip Set record shop.

Just as interesting is the mid-point in hip hop's development, when the underground went overground and a passion became an industry. Discover how artists like Run-DMC and the Beastie Boys broke down color barriers and took hip hop to the top of the charts, where it remains to this day. And if you think you can be the next 50 Cent, step up to the mic at hip hop karaoke and put your money where your mouth is.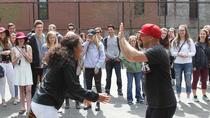 45 Reviews
If you're into hip-hop, or want to see another side of NYC, take a tour with one of hip-hop's Grandmasters! Suitable for all ages, this one-of-a-kind ... Read more
Location: New York City, New York
Duration: 4 hours
Saturdays only May-November: 3 hours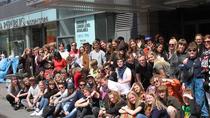 19 Reviews
Take a guided tour through Harlem to the sites that inspired and nurtured hip-hop culture. New York is the birthplace of hip-hop and this walking tour ... Read more
Location: New York City, New York
Duration: 2 hours (approx.)