The world's premier modern art gallery, MoMA (Museum of Modern Art) provides visitors with a master class in modernist and contemporary art. The collection numbers more than 150,000 works of art, along with a sizable film and photography collection.  Exhibitions are held from time to time, along with performance art and exhibits of architecture, prints and illustrated books. The building was recently renovated to vastly expand the museum's exhibition space. The museum gift shop is an excellent place to shop for a New York souvenir you'll actually keep for more than a few months.
The Apollo Theater in the heart of Harlem is one of the world's most famous live music venues. Some of the biggest names in contemporary music have played the Apollo, including Duke Ellington, Charlie Parker and the master of soul, James Brown. Hear jazz, blues or R&B, or come along on a Wednesday evening for the long-running Amateur Night. Stars who first flexed their talents as amateurs on the Apollo's legendary stage include Michael Jackson and Lauryn Hill. Informative and entertaining daily tours highlight the history of the Apollo and the performers who've played there. Listed on the National Register of Historic Places, the Apollo is an excellent destination for those who want to escape the tourist traps of Manhattan and see a broader piece of New York City.
Harlem is famous for its jazz clubs – everybody knows that. But not as many people know Harlem is equally famous for its gospel music at a handful of local churches. A New York City gospel tour gets you a front-row seat at a soul-stirring gospel music performance and gives you the chance to visit one of New York's most vibrant neighborhoods. Join a local gospel choir for an energetic and inspiring morning performance, followed by a soul food brunch. During your visit to legendary Harlem, you'll also hear stories from the borough's fascinating history and see its famous sights. This is definitely off the beaten New York City path; New York's endless attractions will give you plenty of stories to take home, but none will be as cool as this. 
From CBGB to the Chelsea Hotel, New York has been a major force in the history of rock 'n' roll, whether it's playing host as the place where rockers perform or the place where they create scandal. No self-proclaimed rock 'n' roll aficionado should leave New York without going on the New York City Original Rock 'n' Roll Walking Tour. As you wander through the East Village, you'll learn what went down during the years of punk and rock, as well as see sites like Joey Ramone's NYC pad, the St Marks Hotel, Iggy Pop's former residence, Andy Warhol's Electric Circus and Madonna's first NYC apartment. You'll hear stories of the New York Dolls, CBGB, Velvet Underground, Fillmore East and Led Zeppelin, and you'll visit sites where famous album covers were shot. Anecdotes about the debauchery these music legends got up to makes for entertaining commentary as you walk through one of New York's favorite neighborhoods. A Bob Dylan walking tour is also available on Sundays. 
New York may be the center of fine dining in America, with a new celebrity chef restaurant opening every week, but it's just as famous for its pizza, particularly Grimaldi's Pizzeria, which has received top praise by everyone from the Zagat Survey to First Lady Michelle Obama. 
The original and most well-known location is in Brooklyn, just under the Brooklyn Bridge. The pizzeria does not accept reservations, nor do they sell slices – only pizza by the pie, baked to perfection in a coal-fired brick oven. Not surprisingly, the lines can get very long, but a New York pizza tour will get you out of the line and straight to a pre-booked table. 
Also on the itinerary is a stop at L&B Spumoni Gardens, another Brooklyn institution that serves Sicilian pizza – thick slices cut in squares. Which is better? It's a question that spawns many debates around the city. You be the judge. 
The 20th-century artwork displayed on the gently inclining white walls of the Solomon R Guggenheim Museum often take second place to the building's landmark Frank Lloyd Wright design. The great architect's work is an uplifting sight, from both outside and within, and a thorough restoration program was completed in 2008. Unwinding like a coil of white ribbon, the exhibition space spirals upwards around a central skylight.
As well as hosting changing exhibitions of photographs and paintings, the Guggenheim's permanent collection includes Impressionist, Post-Impressionist, early-Modern and contemporary art. You'll see works by Paul Gauguin, Pablo Picasso, Vincent van Gogh, Claude Monet and other master painters. The stark white interior of the museum is the perfect backdrop for the colorful art on display.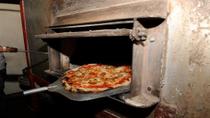 72 Reviews
Take a guided walking tour in New York City and taste pizza at three of Manhattan's top pizzerias along the way! Sample the pizzas of Little Italy and lower ... Read more
Location: New York City, New York
Duration: 2.5 to 3 hours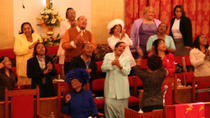 483 Reviews
Spend Sunday morning in Harlem, the ethnically diverse borough of New York. You'll join a local church congregation and experience the soul-stirring power of ... Read more
Location: New York City, New York
Duration: 4 hours (approx.)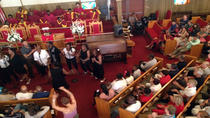 135 Reviews
Pay a visit to Harlem, the ethnically diverse borough of New York, on a Wednesday-morning guided tour. On your tour through one of New York City's most vital ... Read more
Location: New York City, New York
Duration: 4-5 hours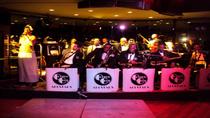 111 Reviews
Take a tour of Harlem — a center of jazz and bebop music — then dine on soul food and see a jazz show at a famous venue like the Cotton Club. After exploring ... Read more
Location: New York City, New York
Duration: 5 hours (approx.)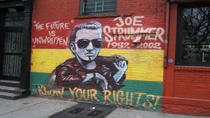 82 Reviews
Take a walk on New York's wild side to the sites where famous and infamous musicians played, lived and shopped. Ever wondered where the Ramones, Television and ... Read more
Location: New York City, New York
Duration: 2 hours (approx.)