New York City attractions
More things to do in the area
Showing 11-20 of 198 attractions in New York City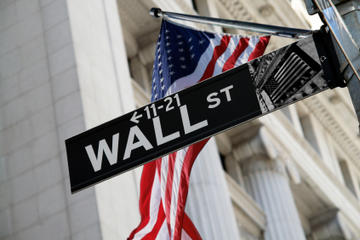 Wall Street is synonymous with New York's Financial District and the New York Stock Exchange. The history of early New York, of New World capitalism and American commerce all come together in Wall Street, named for the protective barrier that once marked the northern boundary of the tiny Dutch settlement known as New Amsterdam. There are some grand examples of architecture on Wall Street, including the classic pediments and pillars of the New York Stock Exchange and the 18th-century Federal Hall, commemorating the site where the first US Congress convened and Washington was sworn in as president. On Broadway at Wall Street, historic Trinity Church hosts choral concerts and has an interesting museum and cemetery.
More
152 Tours and Activities
---
The Intrepid Sea, Air & Space Museum is a unique journey through all things military and maritime, with spectacular interactive exhibits. Located at Pier 86, the complex boasts authentically restored vessels, the most impressive being the World War II aircraft carrier the USS Intrepid and the submarine USS Growler. You'll also spy a British Airways Concorde, as well as Sikorsky, Skyhawk, and Vietnam-era Iroquois Huey helicopters. As for space memorabilia, the new Space Shuttle Pavilion is now open and showcases Enterprise, the first space shuttle. You can also visit a replica of an Aurora capsule and try out the virtual flight zone, which simulates the exhilaration of flying in a supersonic jet.
More
45 Tours and Activities
---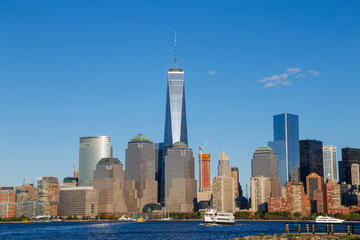 New York City is more than the bright lights of Broadway, the billboards of Times Square or the boutiques of SoHo. Travelers who want to make the most of their visit to the Big Apple should be sure to include a stop in Lower Manhattan, where plenty of culture, history and landmarks reign supreme. Whether it's a couple of hours or an entire day, there's something for every kind of visitor in this diverse destination. History lovers can check out the African Burial Ground Museum or the 9/11 Memorial, while outdoor enthusiasts can revel in the sunshine of Battery Park or the cruise along the waters on the Staten Island Ferry. Bargain shoppers will love the deep discounts of iconic Century21 and the unique stores located at the South Street Seaport. Lower Manhattan is also home to the world-famous financial district, which means a visit to Wall Street, the New York Stock Exchange and its massive bull are an absolute must!
More
33 Tours and Activities
---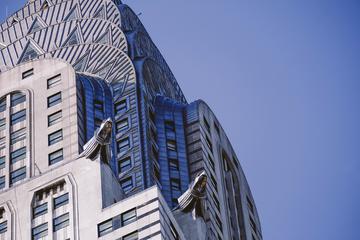 The Chrysler Building is an outstanding example of flamboyant Art Deco architecture, in all its glory. A riot of shiny automobile-inspired curves and radiator-cap gargoyles, the 77-story skyscraper was built from 1928 to 1930. Its most striking feature is its pointed, zigzag-detailed crown and spire. You can enter the lobby to gaze at the Art Deco splendor of its murals, but with no observation deck, that's as far as it goes for visitors. Perhaps the best view of the Chrysler Building is from its arch rival, the Empire State Building.
More
56 Tours and Activities
---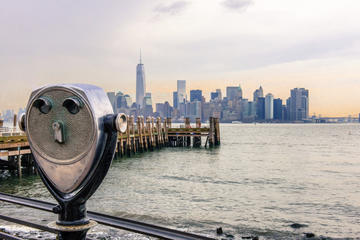 New York Harbor, located at the mouth of the Hudson River, is home to stunning views of the Big Apple and Lady Liberty. Ranked among the largest natural harbors in the world, this gateway to Manhattan is also one of the most scenic, offering travelers incredible photo ops along urban walking paths, bridges and piers. Visitors can Jet Ski, kayak and boat in the New York Harbor waters, where popular dinner cruises and sunset sails take place daily. This epic waterway also services major cruise liners as they enter and depart Manhattan. But even travelers who arrived in New York via land or air can experience the thrill and the beauty of the waterway on a Staten Island Ferry ride or one of the other public boats that transports both locals and visitors in and around the city.
More
39 Tours and Activities
---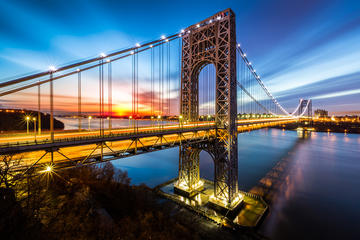 Transporting more than 100 million vehicles annually, the George Washington Bridge over the Hudson River connects northeastern New Jersey to Manhattan. With its steel beams and cables, the double-decker suspension bridge is one of the most recognizable in the world. Informally known as "GW" or "The George," the bridge also allows for pedestrians and bikers to cross, allowing for sweeping views of the New York City skyline. Its lower level (affectionately referred to as "The Martha," after Washington's wife) was added after initial construction to allow for greater capacity. Considered a marvel of modern engineering, the bridge has been recognized as a National Historic Civil Engineering Landmark. At the time it was built it was twice as long as any existing suspension bridge, and remains a favorite New York City landmark. It is the busiest motor vehicle bridge in the world, and os home to the world's largest free-flying American flag.
More
23 Tours and Activities
---
History, recreation and leisure come together at Chelsea Piers, a group of four historic piers on the Hudson River. Some of the most famous ocean-going liners tied up at these docks, including the Lusitania; but these days Chelsea Piers is making waves as an entertainment and sports activities precinct. You can have a go at more than 30 different sports at Chelsea Piers. Tee off with a round of golf at the Golf Club, work out in the Sports Center health club, go ice skating at the Sky Rink, play football or basketball in the Field House, or join in a game of ten-pin bowling at 300 New York. You'll also find an indoor rock-climbing range, gymnastics facilities, a day spa, dance studios, and a training facility for elite athletes.
More
10 Tours and Activities
---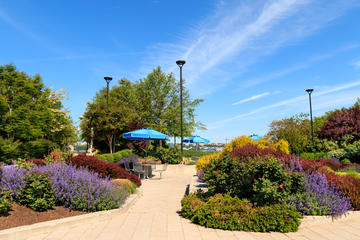 This 550-acre parks is the second largest in New York City and home to a scenic walking, biking and running path where thousands of New Yorkers can run, ride and stroll without having to wait at crosswalks or navigate busy city streets. Epic stretches of greenway meet up with the scenic Hudson River, where travelers can picnic on uninterrupted strips of lush grass or quiet tables nestled onto well-developed piers. In addition to places designed to rest and relax, Hudson River Park boasts plenty of recreational sites as well. The Waterside Park near 11th Avenue and 24th Street houses a massive sports activity center with a playground for kids and basketball courts for adults. Famed Chelsea Piers, with its indoor ice skating rink, soccer fields and driving range is also located off of Hudson River Park.
More
13 Tours and Activities
---
Although a completely separate island that needs to be reached by way of ferry, Governors Island is technically part of the borough of Manhattan. To reach the destination -- which is open from late May through the end of September and is less than a half mile away from Lower Manhattan -- you can take a free ferry from the Battery Maritime Building at 10 South Street. Originally a military outpost, Governors Island began allowing warm-weather visitors in 2006. The island features 172 acres of history and tranquility through heritage sites, biking, picnicking, art and culture. Two remaining 19th-century forts, Fort Jay and Castle Williams, take visitors back to when the island was used for inner harbor defense. Additionally, because there are no cars or motorized vehicles allowed on the island, visitors enjoy renting bikes and cycling along the island's 2.2-mile Great Promenade or to Picnic Point for some lunch and a direct view of the Statue of Liberty.
More
20 Tours and Activities
---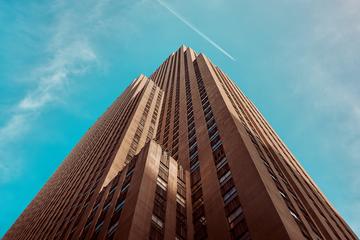 Outdoor terraces provide protected viewing on the 67th and 69th floors, while the top 70th floor has unobstructed, open-air, 360-degree views. You can stay for as long as you like at Top of the Rock to watch the changing panorama of New York City unfold. While the views are similar to those from the Empire State Building, lines are shorter and the experience is less crowded at Top of the Rock. Plus, you get to snap an unbelievable photo of the Empire State!
More
16 Tours and Activities
---