Newport RECOMMENDATIONS See all
Top Historical Mansions in Newport
By Viator, November 2017
No reviews, be the first!
The Newport mansions celebrate a bygone era, a period during the 19th-century "gilded age" when wealthy industrialists built lavish summer mansions along the Rhode Island coast. Here are some of the top elegant structures in Newport.
The Breakers
Arguably the most impressive of Newport's summer residences, The Breakers was built by the famed Vanderbilt family to serve as their humble holiday "cottage." The property stayed in the hands of the family and its heirs until the mid-20th century, when it was turned over to the Preservation Society of Newport County. Today, visitors can explore the incredible interior of this seaside palace as part of a number of day trips to the mansions.
Marble House
The Marble House is yet another summer home owned by the Vanderbilt family, a property known for its prominent portico and incredible array of 50 rooms. You can check out this National Historic Landmark as part of one of several excursions to Newport Beach's famous Ocean Drive.
Rosecliff
Modeled after the Palace of Versailles in France, the Rosecliff dates to 1898, when construction was started by wealthy silver heiress Theresa Fair Oelrichs. The mansion's luxurious interiors have even caught the eye of those in the movie industry, having been used as a setting for film productions including True Lies and Amistad.
The Elms
The Elms once served as the holiday estate of Berwind-White Coal Mining Company founder Edward Julius Berwind, boasting a ballroom, conservatory, library, and beautifully manicured grounds. Many group and private tours of Newport include a stop at this opulent residence.
Chateau-sur-Mer
Known as one of the older mansions that helped kick off Newport's wealthy building boom, the Chateau-sur-Mer boasts beautiful Victorian-style architectural details. This iconic home can be seen during a stroll along the 3.5-mile (5.6-kilometer) Cliff Walk, a public walkway that passes by many of Newport's most famous properties.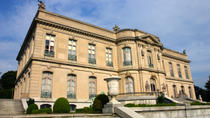 59 Reviews
Escape to the lovely coastal city of Newport, Rhode Island, on this day trip that includes both a guided tour and free time. Explore The Breakers mansion, the ... Read more
Location: Boston, Massachusetts
Duration: 10 hours (approx.)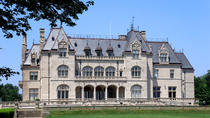 Escape the city for the day and visit the charming, historic Newport mansions in coastal Newport, Rhode Island! With this private, full-day trip you'll enjoy ... Read more
Location: Boston, Massachusetts
Duration: 10 hours (approx.)