1704 Reviews
Address:

Niagara Falls, Canada

Hours:

Open daily

Admission:

Free
Spectacular! Wow! Fabulous! Whatever superlatives you choose, you won't be able to keep the word from your lips at Niagara Falls. For here, great muscular bands of water tumble over a precipice like liquid glass, roaring into the void below. In terms of sheer volume, more than a million bathtubs of water plummet over the edge every second.

Niagara Falls is actually two sets of falls: the American Falls and the Horseshoe Falls on the Canadian side. The best way to see Horseshoe Falls is either via the Maid of the Mist boat, which takes you right up to Falls, through the turbulent waters of the American Falls. Another way is to take the Journey Behind the Falls, in which you'll walk through tunnels onto an observation deck to get a wet but up-close view of the Horseshoe Falls or go to the Cave of the Winds for an up-close view of the American Falls.
On land, you can see Niagara Falls from the Skyline Tower on the Canadian side.
Practical Info
You can reach Niagara Falls from Toronto by bus, train, or car. Once you're here, you can get around Niagara Falls, the town on the Canadian side, by shuttle bus. Parking is plentiful, especially in the parking lot in Niagara Parkway, just south of River Road. Other diversions at Niagara Falls include Clifton Hill, a massive entertainment promenade, Bird Kingdom, Marineland, and the Whirlpool Aero Car. Outside of Niagara is a burgeoning wine region, worth exploring if you have extra time.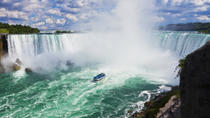 673 Reviews
While you're visiting Niagara Falls, take a morning or afternoon tour of the spectacular attractions on the Canadian side of the Falls. Highlights include an ... Read more
Location: Niagara Falls
Duration: Varies from 4 to 5 hours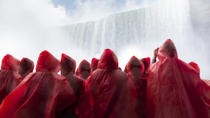 55 Reviews
Don't just visit Niagara Falls, experience it! On this small-group day trip from Toronto, discover the thrill of Niagara Falls on a classic Hornblower Niagara ... Read more
Location: Toronto, Canada
Duration: 1 day (approx.)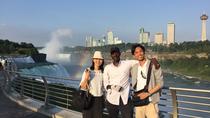 2 Reviews
Discover the majesty of Niagara Falls on this day trip from Boston. Less than 60 minutes is the flight time for a trip from Boston to Niagara, where you'll ... Read more
Location: Boston, Massachusetts
Duration: 1 day (approx.)
8 Reviews
A professional, local licensed tour guide will lead this sightseeing tour. Discover the Canadian side of Niagara Falls on this 5-hour tour with commentary by ... Read more
Location: Niagara Falls, Canada
Duration: 6 hours (approx.)
Tour Niagara falls by boat, plane, and bus. Your one-day experience of Niagara Falls includes transportation from Toronto Chelsea Hotel to Niagara Falls, as ... Read more
Location: Toronto, Canada
Duration: 1 day (approx.)
3 Reviews
Enjoy a small-group 9-hour guided tour of Niagara Falls from Toronto. Your tour guide will pick you up and drop you off at your downtown Toronto hotel or ... Read more
Location: Toronto, Canada
Duration: 9 hours (approx.)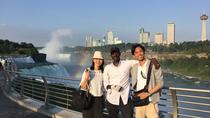 1 Review
Explore the natural beauty of Niagara Falls, New York on this private, 6-hour sightseeing tour. Learn about this iconic natural wonder and get up close to the ... Read more
Location: Niagara Falls, New York
Duration: 6 hours (approx.)
2 Reviews
Taste the wines of the Niagara Region on a private tour of wineries located along the picturesque shore of Lake Ontario. A certified wine connoisseur ... Read more
Location: Toronto, Canada
Duration: 8 hours (approx.)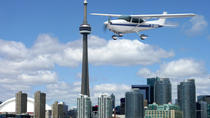 Take a 30-minute air taxi from Toronto Island Airport to Niagara District Airport. If your time is limited, save yourself the frustration of a 4-hour drive to ... Read more
Location: Toronto, Canada
Duration: 45 minutes (approx.)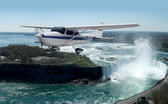 Enjoy a spectacular view of Niagara Falls from above on this 45-minute air tour. Save the drive to Toronto and fly from Niagara District Airport to Toronto ... Read more
Location: Niagara Falls, Canada
Duration: 45 minutes (approx.)