Grand and powerful Niagara Falls is actually composed of three sets of falls: American Falls, Bridal Veil Falls, and Horseshoe Falls (also known as Canadian Falls). Combined these cascades have the highest flow rate of any waterfall in the world—more than a million bathtubs of water plummet over the edge every second. The falls straddle the border of Canada and the United States, and while they're wildly impressive from both sides, here's how to have a Niagara adventure from the Canadian side.
The Basics
You can't get closer to, or have better views of, Niagara Falls than you can on a boat ride. Daytime, evening, nighttime, and fireworks cruises all enable you to hear and feel the power of the falls up close. Hornblower Niagara is the most popular cruise option on the Canadian side. A Maid of the Mist tour, one of the area's oldest attractions, runs from the US side only, but some guided tours from the Canadian side offer cross-border transportation to the boat's departure point. Another way to experience the falls is through the Journey Behind the Falls, where you walk through 130-year-old tunnels onto an observation deck behind Horseshoe Falls. You can also see the falls from the Skylon Tower, a 520-foot (160-meter) observation tower featuring sweeping vistas of Niagara Falls plus an arcade and a revolving restaurant. For even loftier views, some sightseeing tours include the unforgettable experience of flying over the falls in a small plane or helicopter.
Things to Know Before You Go
If you visit the falls on a boat tour, prepare to get wet from the mist—which, of course, is part of the thrill of the ride!

If your Canada-based tour includes a Maid of the Mist ride, which departs from the US, be sure you have appropriate documentation to enter both countries. Opting for a small-group or a private tour can make the experience feel more personal; though a large-group bus tour is a more economical way to visit.

Every night after dark, the falls are illuminated by a spectacular light show. A Niagara Falls night cruise is a great way to see it.

How to Get There
You can reach Niagara Falls from Toronto by bus, train, or car. Once you're there, you can get around the town of Niagara Falls by shuttle bus. Drivers can find plentiful parking in the area's lots.
When to Get There
Summer is prime time for Niagara Falls visits, as it's the best season for boat tours, which generally run from April through November. There's also a Niagara Falls fireworks show several times weekly during the summer months. In winter there's still plenty to see and do at the falls, including snowshoeing and ice climbing.
Things to Do Nearby
If you have extra time during your visit to Niagara Falls, Eastern Ontario is a burgeoning wine region well worth exploring on a wine tour during the balmier months. Food tours are also popular ways to sample the region's fresh and distinctive offerings. Other activities outside of a Niagara Falls tour include Clifton Hill (a massive entertainment promenade), Bird Kingdom, Marineland, and the Aquarium of Niagara (in New York).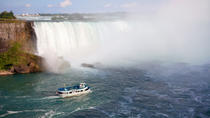 845 Reviews
Don't let the border stop you from experiencing all of Niagara Falls' glory! On this deluxe 6-hour tour, visit top Niagara Falls attractions on both the ... Read more
Location: Niagara Falls, Canada
Duration: 6 hours (approx.)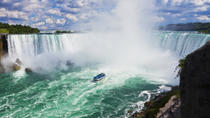 857 Reviews
While you're visiting Niagara Falls, take a morning or afternoon tour of the spectacular attractions on the Canadian side of the Falls. Highlights include an ... Read more
Location: Niagara Falls, Canada
Duration: 5 hours (approx.)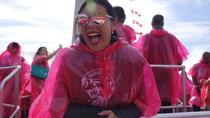 80 Reviews
With a maximum of just 14 guests, our award-winning Niagara Falls Day Tour from Toronto is the best way to experience one of Canada's most spectacular ... Read more
Location: Toronto, Canada
Duration: 1 day (approx.)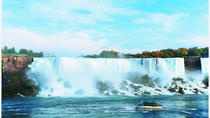 14 Reviews
"Best of Both" Daytime Adventure This fully guided tour features some of the best views and experiences Niagara Falls has to offer. ... Read more
Location: Niagara Falls, New York
Duration: 5 hours 30 minutes (approx.)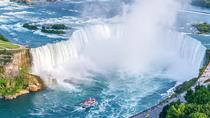 16 Reviews
Enjoy a small-group 8 to 9 hour guided tour of Niagara Falls from Toronto. Travel with only 3-14 people per tour group. Your tour guide will pick you up and ... Read more
Location: Toronto, Canada
Duration: 9 hours (approx.)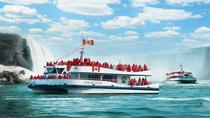 22 Reviews
A professional, local licensed tour guide will lead this sightseeing tour. Discover the Canadian side of Niagara Falls on this 6-hour tour with commentary by ... Read more
Location: Niagara Falls, Canada
Duration: 6 hours (approx.)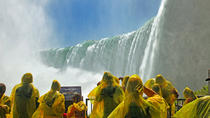 8 Reviews
Niagara Falls is just a day trip away when you visit Toronto, Ontario. On this 8-hour small-group Niagara Falls Day Tour, visit some of the area's top ... Read more
Location: Toronto, Canada
Duration: 8 hours (approx.)
Enjoy a 5 hour guided tour of Niagara Falls. Enjoy line by-pass and insights to some of the best Niagara has to offer.
Location: Niagara Falls, Canada
Duration: 5 hours (approx.)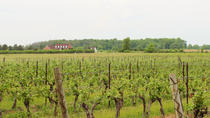 2 Reviews
Taste the wines of the Niagara Region on a private tour of wineries located along the picturesque shore of Lake Ontario. A certified wine connoisseur ... Read more
Location: Toronto, Canada
Duration: 8 hours (approx.)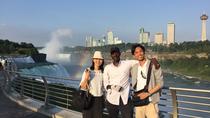 4 Reviews
Discover the majesty of Niagara Falls on this day trip from Boston. Less than 60 minutes is the flight time for a trip from Boston to Niagara, where you'll ... Read more
Location: Boston, Massachusetts
Duration: 1 day (approx.)