Often touted as one of Ontario's most beautiful towns, Niagara-on-the-Lake is a great destination for anyone wanting a slow-paced, scenic and agriculturally-rich Canadian experience. Wine touring is a popular activity, as Niagara-on-the-Lake is home to over 25 wineries, most of which are open for tours and tastings. Visit everything from small boutique wineries to large estates, with each facility having its own distinct personality -- although all benefit from the area's proximity to Lake Ontario and the Niagara River.

There are also a number of performance spaces, great for getting to know local culture, including the Shaw Festival Theatre, Court House Theatre and Royal George Theatre. There are also a number of art galleries, like the Angie Strauss Gallery, which showcases beautiful impressionist paintings, and the Romance Collection Gallery, where you can see works by local artists Trisha Romance and Tanya Jean Peterson.

Throughout the year, Niagara-on-the-Lake has many fun festivals. In the summer, Music Niagara puts on over 30 piano, jazz and opera acts around the town, while the Peach Festival celebrates the sweet local fruit. A number of wine festivals take place, as well, like the New Vintage Festival in June, Niagara Wine Festival in September, the Icewine Festival in January, and the Days of Chocolate and Wine Festival in February. From April through November, the Shaw Festival delights audiences with performances by George Bernard Shaw and other playwrights from his time.
Practical Info
Niagara-on-the-Lake is an easy day trip from Niagara Falls, located about a half an hour away via the Niagara Parkway. If you're flying in, Buffalo-Niagara International Airport is about 45 minutes away and offers shuttle service for about $95 each way for up to four passengers.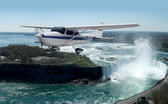 Enjoy a spectacular view of Niagara Falls from above on this 45-minute air tour. Save the drive to Toronto and fly from Niagara District Airport to Toronto ... Read more
Location: Niagara Falls, Canada
Duration: 45 minutes (approx.)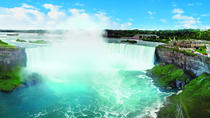 2 Reviews
Enjoy a private, guided, 7-hour tour to Niagara Falls from Toronto. Travel in a luxury vehicle, available for groups with up to five passengers, and learn the ... Read more
Location: Toronto, Canada
Duration: 7 hours (approx.)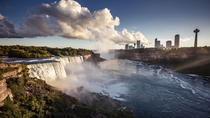 47 Reviews
Head north from New York City in a climate-controlled coach on this exciting 3-day tour to experience the best of the Niagara Falls region in both New York and ... Read more
Location: New York City, New York
Duration: 3 days (approx.)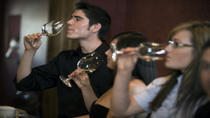 57 Reviews
Taste the best of the Niagara-on-the-Lake wine region, part of the larger Wine Country Ontario region, on this small-group tour. Niagara-on-the-Lake is not ... Read more
Location: Niagara Falls, Canada
Duration: 4.5 - 5.5 hours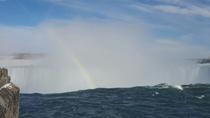 1 Review
On this 8-hour tour, visit Niagara-on-the-Lake and Niagara Falls, and enjoy a ride on the Hornblower Niagara Cruise. This tour is geared for travelers who ... Read more
Location: Toronto, Canada
Duration: 8 hours (approx.)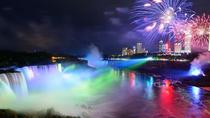 3 Reviews
Experience Niagara Falls at night on this evening tour from Toronto. This tour includes complimentary pickup from all Toronto and airport area hotels by a ... Read more
Location: Toronto, Canada
Duration: 10 hours 30 minutes (approx.)
What's all the fuss about Ontario craft beer? Well, it's produced by independent brewers, it's fresh and made from the best ingredients, and it tastes great. ... Read more
Location: Niagara Falls, Canada
Duration: Flexible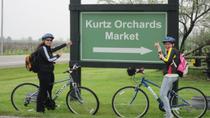 34 Reviews
Enjoy beautiful scenery, great bike trails and Niagara-on-the-Lake's finest wines on this biking and wine-tasting tour. Niagara-on-the-Lake is an incredibly ... Read more
Location: Niagara Falls, Canada
Duration: 4.5 hours or 6.5 hours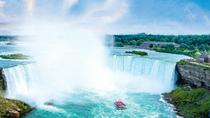 On this 9-hour tour, visit Niagara-on-the-Lake and Niagara Falls. You'll journey around Lake Ontario, ride aboard the Hornblower Niagara Cruise, see amazing ... Read more
Location: Toronto, Canada
Duration: 9 hours (approx.)
1 Review
Drive along the beautiful Niagara Parkway and tour Ontario's prettiest town, Niagara-on-the-Lake, located in the center of Niagara's Wine Country. Walk along ... Read more
Location: Niagara Falls, Canada
Duration: Flexible