The mighty Niagara Falls straddle the border between the U.S. and Canada, and while it's possible to take in the glory of this thundering natural wonder from viewing platforms on either side, Hornblower cruises now put travelers coming from the Canadian side well within the splash zone for a truly thrilling experience.
There are a variety of specialty options for a trip on one of these 700-seat catamarans, including an evening lights day trip ride from Toronto. Niagara is beautiful by day but even more impressive at night. This nine-hour tour includes round-trip travel from Toronto, a buffet dinner at the Fallsview Dining Room, wine tasting, weekend fireworks and of course, a Hornblower cruise that gets travelers as close as possible to the falls.
There's also the option to include a Canadian sightseeing tour before you head out on your cruise. A four-hour tour is the perfect way to explore the Canadian side of the falls, and visitors will get a spectacular view from atop the Skylon Tower and Table Rock Horse, visit Horseshoe Falls, the Mighty Whirlpool and Queen Victoria Park. Travelers will also experience the thrill of an up-close falls experience aboard the Hornblower Niagara gorge cruise.
If you want to pull out all the stops, opt for the ultimate Niagara Falls tour with an included helicopter lunch and Skylon Tower lunch. This epic adventure lets travelers experience the thrill of the falls from top to bottom by including an extensive tour of the Canadian side of the falls, a 12-minute sky-high helicopter tour and a rare look at the network of tunnels behind and around the falls. This amazing day is capped off with lunch at the revolving Skylon Tower restaurant.
To make sure you don't miss anything that has to do with these majestic falls, pick the Niagara Falls Wonder Pass, which offers a tour with the top Niagara experiences from mid-April through October. Travelers will learn about the creation of the falls, visit the Niagara Parks Butterfly Conservatory, see the White Water Walk and of course, get soaked on a Hornblower cruise It's a wild way to enjoy the falls!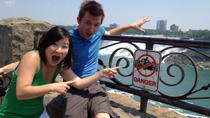 476 Reviews
Don't miss the opportunity to visit the mighty Niagara Falls on a day trip from Toronto. The full-day tour includes a buffet lunch at Niagara Falls and an ... Read more
Location: Toronto, Canada
Duration: 9 hours 30 minutes (approx.)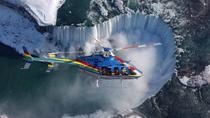 152 Reviews
Experience Niagara Falls from top to bottom on this activity-filled tour of the Canadian side of the falls. Be wowed on an exciting helicopter ride; feel the ... Read more
Location: Niagara Falls, Canada
Duration: 5 hours (approx.)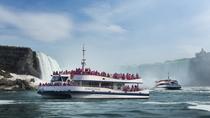 694 Reviews
See the Canadian side of Niagara Falls inside and out on this 5-hour group tour with a knowledgeable local guide who has all kinds of interesting information ... Read more
Location: Niagara Falls, Canada
Duration: 5 hours (approx.)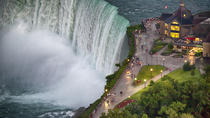 1 Review
Gaze upon her Majesty and take in the natural beauty of Niagara Falls from a Canadian perspective. You will enjoy breathtaking views around every bend while ... Read more
Location: Niagara Falls, New York
Duration: 4 hours (approx.)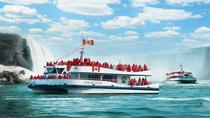 20 Reviews
A professional, local licensed tour guide will lead this sightseeing tour. Discover the Canadian side of Niagara Falls on this 6-hour tour with commentary by ... Read more
Location: Niagara Falls, Canada
Duration: 6 hours (approx.)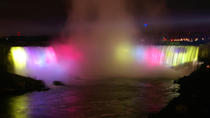 35 Reviews
Visit the Canadian side of Niagara Falls on this all-inclusive day and night tour. Experience Niagara's top attraction during the day, with popular stops ... Read more
Location: Niagara Falls, Canada
Duration: 8 hours (approx.)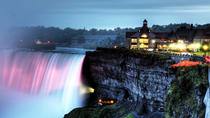 27 Reviews
Experience Niagara Falls by night on this 4-hour tour. Start with a 3-course dinner at a restaurant located a stone's throw from Horseshoe Falls, and look out ... Read more
Location: Niagara Falls, Canada
Duration: 4 hours (approx.)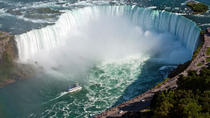 10 Reviews
Enjoy a fully guided 9-hour tour with exceptional customer service, the most entertaining tour guides, and the safest drivers. Learn about the region as you ... Read more
Location: Toronto, Canada
Duration: 9 hours (approx.)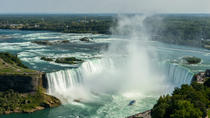 173 Reviews
Take a full-day trip from Toronto to Niagara Falls (in Canada), with the freedom to go your own way when you get there. You'll be dropped at the foot of ... Read more
Location: Toronto, Canada
Duration: 9 hours 30 minutes (approx.)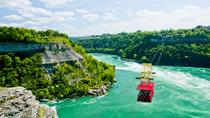 3 Reviews
Explore Niagara Falls with a private guide who is at your service to provide interesting commentary about this spectacular natural wonder. This private tour ... Read more
Location: Niagara Falls, Canada
Duration: Varies