Straddling the international border between the Canadian province of Ontario and the American state of New York, Niagara Falls has been a wildly popular honeymoon destination since the 18th century, but it has a lot to offer young lovers and nature lovers alike. The section of the falls accessible from the American side (the aptly named American Falls) is separated from its northern neighbor by the uninhabited Goat Island, itself accessible by two bridges carrying foot, car and train traffic. There are many activities to choose from in the area, but the main spectacle is the falls itself and the best use of one's time is found in taking advantage of the various methods of observing this extraordinary natural phenomenon.    

Perhaps the most invigorating means of experiencing Niagara is via an open jet boat excursion into the watery chaos of the Niagara Whirlpool. Not for the faint of heart, open tours guarantee the prospect of getting thoroughly soaked. All participants must be older than age six, taller than 44 inches, and in good health.  For the marginally meeker visitor, closed or domed jet boat tours are also available.

Needless to say, a particularly grand panorama of the falls can be had from the air and there is a wide array of options to choose from. Multiple versions of helicopter tours offer a birds-eye view, ranging from shorter, 20-minute flybys to extended trips complete with stopovers at regional wineries.

An unusually vivid contrast can be experienced by visitors who opt for a journey from the streets of New York City through the beautiful mountains of scenic upstate New York to the mists of Niagara. Many tours spread this round-trip excursion out over several days' time and stop off at regional places of interest every few hours along the way.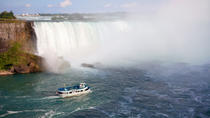 533 Reviews
Don't let the border stop you from experiencing all of Niagara Falls' glory! On this deluxe 6-hour tour, visit top Niagara Falls attractions on both the ... Read more
Location: Niagara Falls, Canada
Duration: 6 hours (approx.)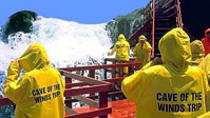 298 Reviews
During your time in Niagara Falls, take a tour of the American side of the spectacular falls. Highlights include a walking adventure along the incomparable ... Read more
Location: Niagara Falls
Duration: Varies from 4 to 5 hours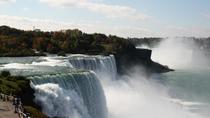 39 Reviews
See and experience the best of Niagara Falls on this 4-hour sightseeing tour of Niagara's American side. In addition to a fully narrated tour by coach, this ... Read more
Location: Niagara Falls, New York
Duration: 4 hours (approx.)
410 Reviews
Leave the hustle and bustle of New York City behind and enjoy a relaxing 2-day overnight trip to Niagara Falls. You'll travel to upstate New York by bus and ... Read more
Location: New York City, New York
Duration: 2 days (approx.)
867 Reviews
Discover the beauty and awesome power of Niagara Falls on a day trip from New York. You'll fly to Upstate New York, tour the falls on both the US and Canadian ... Read more
Location: New York City, New York
Duration: 14 hours (approx.)