A popular time to visit the famous Niagara Falls region is in the summertime and there is a whole lot more to do than just see the famous falls. Whether you are a newlywed or are visiting with family and friends, there are many things for you to see and do from wine tasting to various water activities, attending a concert or celebration and more.
One of the smartest things to do before your trip to Niagara Falls begins is to get a Niagara Falls Adventure Pass. This pass allows you to ride on the famous Maid of the Mist and take the white water boardwalk and it can be used on the WEGO bus to transport you around the Niagara Falls area. The pass is valid from April to October and there is a Magic pass available for the winter months with different options. If you want to see and do everything involving the falls, having an adventure pass is the best way to do it and it saves you from having to wait in line for tickets.
While visiting Niagara you can also take a moment and get back to nature at Butterfly Conservatory, while horseback riding, or on a kayak tour on the Niagara River, which you can take from the US side of the falls. The kayaking trip takes roughly 2.5 hours and you will visit a few islands, a wildlife habitat, see a famous farmhouse, and more.
Visit nearby vineyards on your own, or let someone else do the driving on a guide tour. You can even work off some of the wine on a Niagara-on-the-Lake cycle and wine tasting tour as you visit four to five wineries by bike. The tour guide will deliver any wine you buy to your hotel so you don't need to worry about juggling it on your bike ride.

During the summer months in Niagara, various celebrations and events take place with the most popular being Canada Day and Independence Day in the US. There are big parties, free live entertainment, and lots of fireworks over the falls in a spectacular display.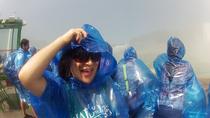 350 Reviews
During your time in Niagara Falls, take a tour of the American side of the spectacular falls. Highlights include a walking adventure along the incomparable ... Read more
Location: Niagara Falls
Duration: Varies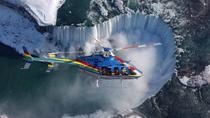 152 Reviews
Experience Niagara Falls from top to bottom on this activity-filled tour of the Canadian side of the falls. Be wowed on an exciting helicopter ride; feel the ... Read more
Location: Niagara Falls, Canada
Duration: 5 hours (approx.)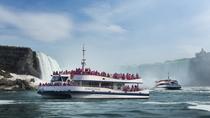 694 Reviews
See the Canadian side of Niagara Falls inside and out on this 5-hour group tour with a knowledgeable local guide who has all kinds of interesting information ... Read more
Location: Niagara Falls, Canada
Duration: 5 hours (approx.)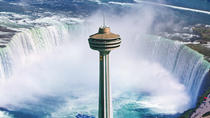 84 Reviews
Visit Skylon Tower for the best views of Niagara Falls. This admission ticket provides access to 'Ride to the Top,' the glass-enclosed elevator that whisks you ... Read more
Location: Niagara Falls, Canada
Duration: Flexible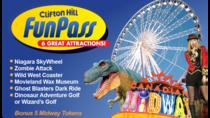 52 Reviews
Make the most of your Niagara Falls visit with this wallet-friendly Fun Pass that gets you into six attractions on Clifton Hill. The entertainment promenade is ... Read more
Location: Niagara Falls, Canada
Duration: Flexible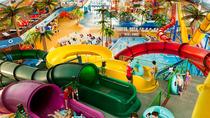 3 Reviews
Splash away at the Fallsview Indoor Waterpark with a day pass for the whole family. The waterpark is simply amazing with over a 125,000 square feet of ... Read more
Location: Niagara Falls, Canada
Duration: 12 hours (approx.)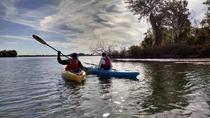 12 Reviews
Here's your chance to take in some of the most breathtaking scenery on the Niagara River.  Join one of our experienced tour guides as you paddle your kayak ... Read more
Location: Niagara Falls, New York
Duration: 3 hours (approx.)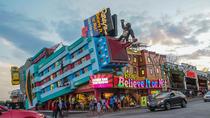 23 Reviews
On top of Clifton Hill lies a skyscraper fallen on its side — Ripley's Niagara museum. Book entry to Ripley's attractions, or a combined ticket with two or all ... Read more
Location: Niagara Falls, Canada
Duration: 1 day (approx.)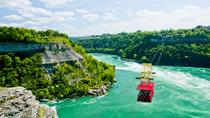 3 Reviews
Explore Niagara Falls with a private guide who is at your service to provide interesting commentary about this spectacular natural wonder. This private tour ... Read more
Location: Niagara Falls, Canada
Duration: Varies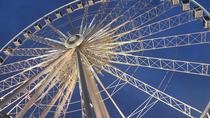 43 Reviews
Capture bird's-eye views of Niagara Falls aboard the Niagara SkyWheel, Canada's largest observation wheel. The 175-foot-high (53-meter) giant Ferris wheel ... Read more
Location: Niagara Falls, Canada
Duration: Varies