One common misconception about Niagara Falls is that it is one large waterfall. The truth is, it is made up of three waterfalls: Bridal Veil Falls on the U.S. side, Horseshoe Falls on the Canadian side, and American Falls on the U.S. side. Bridal Veil Falls is named for its appearance, as its gushing cascades appear similar to a bride's white veil. During peak season from June through August, the falls experience the highest volume of water at 150,000 gallons (567,811 liters) per second.
Bridal Veil Falls, situated between Luna Island and Goat Island, features an impressive vertical fall of 78 feet (24 meters) and a crest that's 56 feet (17 meters) wide, although it is the smallest of the three falls. This one does get a lot of exposure, however, as visitors can get very close to it via a number of accessible attractions including the Maid of the Mist, which takes passengers right past Bridal Veil Falls for a unique view of its beauty. Cave of the Winds is also popular and includes an elevator descent 175 feet (53 meters) into Niagara Gorge before following the Niagara River to the windy Hurricane Deck. Torrents of water from Bridal Veil Falls drench travelers on the deck, while winds gust at up to 68 mph (109 kph), providing a great way to truly experience Niagara Falls.
Spectacular views of Bridal Veil Falls are also seen from the viewing platforms on Goat and Luna islands, the Skylon Tower Observation Deck and at Queen Victoria Park.
Practical Info
Bridal Veil Falls is best visited in the summer when Niagara Falls is at its strongest and all the attractions are open (many close down in the winter). That being said, Niagara Falls itself doesn't close down in the winter, and you can score much cheaper hotels during this time. Just make sure to bundle up.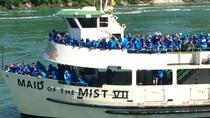 9 Reviews
Watch an enormous amount of water rush over Niagara Falls every minute on this tour of the American side of this natural world wonder. You'll feel the ... Read more
Location: Niagara Falls, New York
Duration: 4 hours (approx.)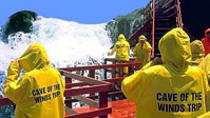 298 Reviews
During your time in Niagara Falls, take a tour of the American side of the spectacular falls. Highlights include a walking adventure along the incomparable ... Read more
Location: Niagara Falls
Duration: Varies from 4 to 5 hours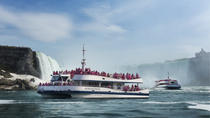 244 Reviews
You can stand on dry ground and look at Niagara Falls all you like, but to truly experience the majesty, a boat ride is a must. This 30-minute boat tour from ... Read more
Location: Niagara Falls, Canada
Duration: 30 minutes (approx.)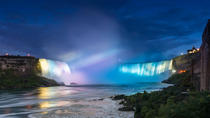 120 Reviews
Experience Niagara Falls at night on this 40-minute boat tour through the Niagara Gorge. Admire dramatic views of American Falls, Bridal Veil Falls and ... Read more
Location: Niagara Falls, Canada
Duration: 40 minutes (approx.)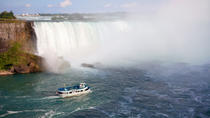 533 Reviews
Don't let the border stop you from experiencing all of Niagara Falls' glory! On this deluxe 6-hour tour, visit top Niagara Falls attractions on both the ... Read more
Location: Niagara Falls, Canada
Duration: 6 hours (approx.)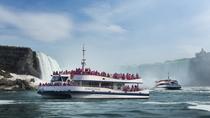 541 Reviews
See the Canadian side of Niagara Falls inside and out on this 5-hour group tour with a knowledgeable local guide who has all kinds of interesting information ... Read more
Location: Niagara Falls, Canada
Duration: 5 hours (approx.)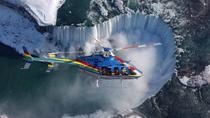 98 Reviews
Experience Niagara Falls from top to bottom on this activity-filled tour of the Canadian side of the falls. Be wowed on an exciting helicopter ride; feel the ... Read more
Location: Niagara Falls, Canada
Duration: 5 hours (approx.)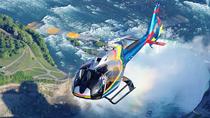 36 Reviews
Marvel at Niagara Falls from above on an exciting 10-minute helicopter ride! As you fly a scenic route along the Niagara River, see all of the area's ... Read more
Location: Niagara Falls, Canada
Duration: 10 minutes in flight, 12 minutes including loading and photos (Approx.)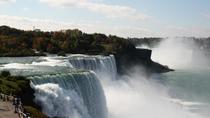 39 Reviews
See and experience the best of Niagara Falls on this 4-hour sightseeing tour of Niagara's American side. In addition to a fully narrated tour by coach, this ... Read more
Location: Niagara Falls, New York
Duration: 4 hours (approx.)