209 Reviews
Address:

39 Waitomo Caves Road, Waitomo, New Zealand

Hours:

Open daily

Admission:

Prices vary for each tour
The Waitomo Caves offer an exciting underworld experience in New Zealand. There are a variety of activities to partake in and the fascinating cave system with its geological wonders and fantastic creatures to explore.
Climb through the long galleries and lofty chambers to view stalactites formed over thousands of years by the constant dripping of water. The cave system itself is over two million years old.
A highlight of the caves is the glowworm grotto; illuminated by thousands of glowworms suspended from the cave ceiling, it is a magical place.
If you seek an adventure that plays with your senses and provides an unforgettable thrill then try abseiling (rappelling) into the awesome limestone tomb to experience the adrenaline rush as you clamber and scramble up through the black abyss and waterfalls in your pursuit of daylight.
Other tours offer the chance to float on an inner tube through the maze of underground rivers then rush through a downhill river system to emerge in Waitomo forest.
Practical Info
Waitomo Caves are a 2-hour drive from Auckland. If you're not hiring a car there are sightseeing buses or plenty of tours that will provide you with transport to Waitomo Caves, along with activities while you're there.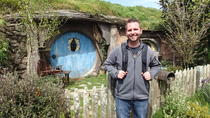 270 Reviews
See two magical places come to life on this day tour from Auckland. First explore the Waitomo Glowworm Caves and be entranced by the thousands of twinkling ... Read more
Location: Auckland, New Zealand
Duration: 11 hours (approx.)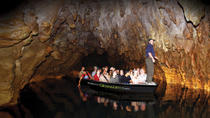 317 Reviews
See all the highlights of the Waitomo Caves and Rotorua in one day. You'll take a guided tour of Waitomo Caves stalactites and glowworms, and see Rotorua's ... Read more
Location: Auckland, New Zealand
Duration: 13 hours (approx.)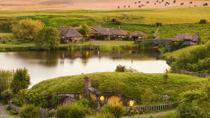 20 Reviews
Do and see it all on a five-day adventure from Auckland that takes you to Waitangi, Rotorua, Waitomo and Middle-earth! Your journey reveals the history and ... Read more
Location: Auckland, New Zealand
Duration: 5 days (approx.)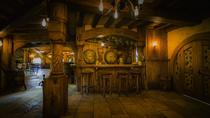 46 Reviews
Immerse yourself in the otherworldly beauty of New Zealand's North Island on a two-day escape from Auckland. From Rotorua's famous geysers and the glowing ... Read more
Location: Auckland, New Zealand
Duration: 2 days (approx.)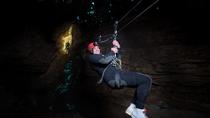 45 Reviews
If you seek an adventure tour that plays with your senses and provides an unforgettable thrill then this tour is for you. Choose between the Black Abyss or the ... Read more
Location: Waitomo, New Zealand
Duration: 3-hours or 5-hours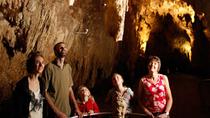 19 Reviews
Leave the city bustle behind to witness a fabulous light show at the Waitomo Glowworm Caves. Marvel at the shimmering glow worms in the caves as you learn ... Read more
Location: Auckland, New Zealand
Duration: 7 hours 54 minutes (approx.)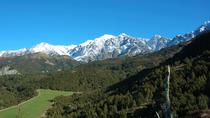 7 Reviews
Journey through the North Island of New Zealand and explore Waitomo, Rotorua and Lake Taupo, and discover the natural beauty of Kaikoura and Christchurch on ... Read more
Location: Auckland or Christchurch, New Zealand
Duration: 5 days (approx.)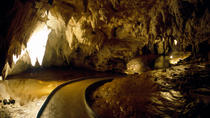 31 Reviews
Explore New Zealand's famous Waitomo Glowworm Caves on a one-way day trip from Auckland to Rotorua! Ride a boat through the Glowworm Grotto, see the Karapito ... Read more
Location: Auckland, concludes in Rotorua, New Zealand
Duration: 6 hours (approx.)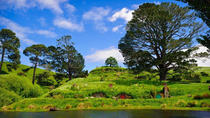 7 Reviews
Your private transport takes you to two of New Zealand's most famous attractions on a full-day tour to Waitomo Caves and the Hobbiton movie set from Auckland. ... Read more
Location: Auckland, New Zealand
Duration: 10 hours (approx.)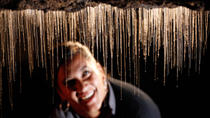 9 Reviews
Travel from Rotorua to Auckland and discover one of New Zealand's top attractions on this 7.5-hour tour of the Waitomo Caves from Rotorua. Travel through the ... Read more
Location: Rotorua, concludes Auckland, New Zealand
Duration: 7 hours (approx.)