For a band that broke up 40 years ago, The Beatles' popularity is as stratospheric as ever. Reissues and anthologies of their recordings continue to bombard the charts, while feature films and the recent Beatles Rock Band video game do their bit to keep the group firmly entrenched in the hearts of its ever-increasing fan-base. The world simply cannot get enough of The Fab Four! Little surprise, then, that the band's home town, Liverpool, is an obligatory place of pilgrimage for so many Beatlemaniacs.

Located on the mighty Mersey River, Liverpool is bursting with sights, shops, tours, museums and festivals celebrating its most famous sons. The best way to get your Beatles fix is by combining one of the many guided tours available with your own musical meanderings (Liverpool's tourist information center sells a great map of Beatles-related landmarks).
 
Day-Tripper
The range of organized Beatles tours available in Liverpool is almost as diverse as the band's musical output. Whether you join a magical mystery tour on a psychedelic painted bus, or stay small-scale in a mini-bus, luxury car or even taxi, there are certain key sights not to be missed. Where your tour takes you will vary depending on its duration (anything between two hours and an entire day).
 
Mendips (251 Menlove Avenue) and 20 Forthlin Road – John Lennon and Paul McCartney's respective childhood homes – should be on any Beatles fan's itinerary. Both have been restored to their original condition by the National Trust: see the bedroom where John started song-writing as a teenager, and Paul's old house, where the group used to rehearse when they were still known as the Quarrymen.

Get your photo taken next to the Penny Lane street sign or in front of Strawberry Fields' bright red gates; pay your respects at Eleanor Rigby's grave, and allow yourself a few hours to wander Mathew Street and the Cavern Quarter. This network of winding streets and converted warehouses boasts a plethora of shops, statues and bars devoted to the mop-topped wonders. Of course, no Beatles odyssey would be complete without a drink at the legendary Cavern Club, where the band played almost 300 gigs. This atmospheric basement bar still hosts live music and DJs, but its main appeal lies in knowing that John, George, Paul and Ringo stood on that very stage all those years ago.

Less known but equally important is the heritage-listed Casbah Coffee Club in West Derby. Opened by the mother of the band's first drummer Pete Best, this tiny place was the venue for the boys' first shows (as the Quarrymen) back in the late 50s. Living Beatles history, it remains unchanged to this day.

For an all-singing, all-dancing interactive overview of the Beatles' lives, times, music and timeless magic, the massive Beatles Story museum at Albert Dock can't be beat. After a visit here, you'll be an expert in all things Fab Four!

Eight Days a Week
Planning to stick around in Liverpool awhile? Take your obsession to the limit with a stay at the four-star Hard Day's Night Hotel, complete with Beatles artwork and Lennon and McCartney suites. Even better, time your visit to coincide with one of the city's annual Beatles festivals. The long-running and hugely popular Beatles Week in August will have you flipping your mop-top wig with joy!

Ticket to Ride
Liverpool is an easy train ride from London or Manchester, or you can fly into the appropriately named Liverpool John Lennon Airport.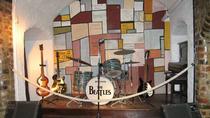 147 Reviews
Penny Lane, Strawberry Fields - visit these famous Liverpool sights your own way on an independent day trip from London. Everything's arranged for you: return ... Read more
Location: London, United Kingdom
Duration: 14 hours (approx.)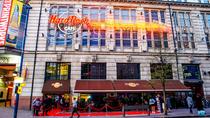 10 Reviews
The Hard Rock Cafe Manchester is the largest in the UK, doubling up as a live music and events venue at the iconic Printworks as well a much-loved American ... Read more
Location: Manchester, United Kingdom
Duration: 2 hours (approx.)