551 Reviews
Address:

Arizona Memorial Way, Honolulu 96818, USA

Hours:

Vary

Admission:

Varies
Pearl Harbor
Somber and significant, Pearl Harbor saw a series Japanese attacks on American ships and planes on Dec. 7, 1941, that left 2,403 people dead, nine ships sunk and a further 21 damaged, thrusting the country into World War II. Today, several attractions around this body of water surrounding Ford Island in central Oahu remind and memorialize the events that took place.
The World War II Valor in the Pacific National Monument includes many popular spots, while several other attractions can also be found in the waters of the harbor and on Ford Island. Travelers can visit the floating tribute to the USS Arizona (where most of the casualties took place during the attacks), view the rows of white marble columns honoring the dead aboard the USS Oklahoma on Ford Island (accessible via shuttle) and catch the long, white dock within view of the rusty sunken hull of the USS Utah, currently only accessible to those with a valid military ID. Other historic sites include the docked and explorable USS Missouri, the last US battleship ever built, now an informational exhibit; the USS Bowfin, an underwater museum housed in the submarine; and a huge hanger of WWII-era planes at Ford Island's Pacific Aviation Museum.
Insider's Tip: There's a lot to see at Pearl Harbor—be sure to choose a tour that includes all of the sites and attractions that are important to you.
Practical Info
Pearl Harbor is set on Oahu's south coast, about 12 miles (20 km) west of Waikiki and Honolulu. The Pearl Harbor Visitor Center is open daily from 7am until 5pm; it is closed on Thanksgiving, Christmas and New Year's Day. Exploring all that Pearl Harbor has to offer will take at least a full day—especially for history and aviation buffs. It should be noted that various attractions may have separate admission fees. A multitude of tours help take the hassle out of navigating this huge area, offering everything from simple shuttle service from Waikiki to ticket bundles packaging multiple see-it-yourself sites and guided tours on land and by boat.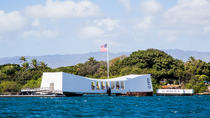 2 Reviews
Explore one of the most important monuments of Hawaii's history with this Pearl Harbor Pass. The Pearl Harbor Pass includes entry to the USS Missouri ... Read more
Location: Honolulu, Hawaii
Duration: 30 days (approx.)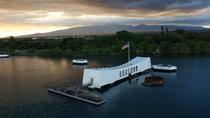 19 Reviews
Start your day with pickup by a chauffeured vehicle and be driven to Pearl Harbor, where you will be offered a cold drink of water or tropical juice. Enter the ... Read more
Location: Honolulu, Hawaii
Duration: 4 hours (approx.)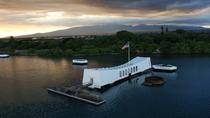 You will be picked up by our chauffeured style driven vehicle and taken to Pearl Harbor where you are offered a cold drink of water or tropical juice before ... Read more
Location: Honolulu, Hawaii
Duration: 5 hours (approx.)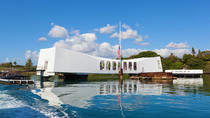 25 Reviews
Get an insider's look at Pearl Harbor on this 4.5-hour small-group guided tour of the area, including  the World War II Valor in the Pacific National Monument ... Read more
Location: Honolulu, Hawaii
Duration: 4 hours 30 minutes (approx.)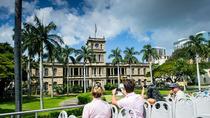 317 Reviews
Experience top Honolulu attractions from an amazing vantage point on this double-decker bus tour from Waikiki. First, visit Pearl Harbor and the USS 'Arizona' ... Read more
Location: Waikiki, Oahu
Duration: 5 hours (approx.)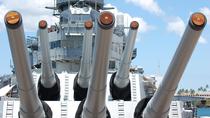 4 Reviews
Enjoy a fast, easy and hassle-free visit to see the sights at Pearl Harbor. Skip the line for the USS 'Arizona' memorial, and transport is included to Pearl ... Read more
Location: Honolulu, Hawaii
Duration: 7 hours (approx.)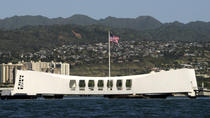 54 Reviews
This historic Oahu Day Trip from the Big Island to Pearl Harbor Hawaii takes you on a patriotic journey from the site of the Japanese attack on Pearl Harbor to ... Read more
Location: Kona, Hawaii
Duration: 14 hours (approx.)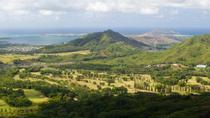 21 Reviews
Discover the rich history and magnificent landscape of Oahu on a full-day tour with an experienced guide. See historic sites such as Nuʻuanu Pali and Pearl ... Read more
Location: Oahu, Hawaii
Duration: 10 hours (approx.)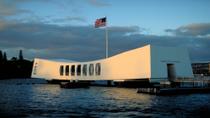 6 Reviews
This inter-island Hawaiian tour from Maui to Oahu will bring you straight to USS Arizona Memorial located at Pearl Harbor. Walk in the footsteps of America's ... Read more
Location: Maui, Hawaii
Duration: 10 hours 30 minutes (approx.)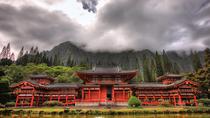 This 5 star tour highlights Oahu's top spots in one adventurous day. Start your day with a trip to Pearl Harbor to visit the USS Arizona Memorial and Pearl ... Read more
Location: Honolulu, Hawaii
Duration: 12 hours (approx.)