Big Island Day Trips from Oahu
By Viator, March 2015
When visiting Honolulu, taking a day trip to the Big Island from Oahu is about more than just seeing volcanoes. Rather, this all-day journey is a tropical time portal, where a comfortable, 40-minute flight can transport you across millions of years. When compared to Oahu—which is 3 million years old—the Big Island of Hawaii is a geological infant in ongoing stages of birth. In fact, since Kilauea volcano began erupting in 1983, over 500 acres of new earth has been created on the island's eastern shore. 
Even for visitors staying in Honolulu, viewing this spectacle of an island being born is possible as a day trip from Oahu. Board a flight and watch Waikiki fade from the window before landing in the historic town of Hilo on the Big Island's eastern shore. Along the way, you're likely to get views of Haleakala Crater while passing alongside Maui, and the snowcapped peak of Mauna Kea as it rises above the clouds. It's an hour journey between Hilo airport and Hawaii Volcanoes National Park, and various detours—such as Rainbow Falls—infuse this journey to Earth's youngest place with a tropical sense of adventure. 
Upon reaching the rugged confines of the park—where hardened black lava forms a lunar wasteland as far as the eye can see—learn the history of Kilauea at the fascinating Jaggar Museum. A live seismograph will show the small earthquakes that are happening beneath your feet, and an unobstructed view of Halema'uma'u Crater shows steam clouds rising from the Earth. Along with the help of a trained guide, take a hike on the dried lava for a look at nature's fury, and learn about the roads, houses and towns that have been swallowed by the slow-moving lava. If you're lucky, there might be the chance to see molten lava flowing across the rocks, marching its way on a slow motion journey towards its eventual date with the sea. 
392 Reviews
Discover the sights of the Big Island on this guided day trip from Oahu. Inside Hawaii Volcanoes National Park, a UNESCO-listed site, hike along a crater rim, ... Read more
Location: Waikiki, Oahu
Duration: 15 hours (approx.)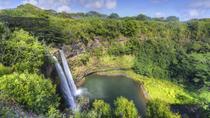 31 Reviews
See the Big Island of Hawaii's stunning beauty on a full-day Grand Circle tour from Oahu. You'll fly from Oahu to the Big Island and circle the island to see ... Read more
Location: Waikiki, Oahu
Duration: 16 hours (approx.)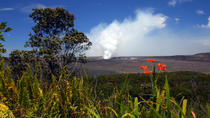 Fly from Oahu to Hawaii for a full-day tour that showcases the Big Island's spectacular natural splendors, including the Kilauea volcano in Hawaii Volcanoes ... Read more
Location: Oahu, Hawaii
Duration: 15 hours (approx.)