Evening Cruises in Oahu
By Viator, November 2017
If your idea of paradise is watching a gorgeous Hawaiian sunset, tropical cocktail in hand, while cruising through the Pacific waters off the coast of Waikiki, a sunset dinner cruise is just what you need. Not only will you enjoy great meal, most likely including lobster and prime rib with side dishes like taro rolls with macadamia nut butter (yum) and chocolate mousse cake (double yum), but you'll also see the Oahu coast in a beautiful sunset glow.

Cruise along amazing place such as Waikiki Beach, or past Diamond Head, to the Kahala coast, a beachfront neighborhood where some of Hawaii's most expensive homes enjoy million-dollar views.

After dinner, you might enjoy a live contemporary Hawaiian show of dancers and musicians to entertain you as you make your way back to Waikiki.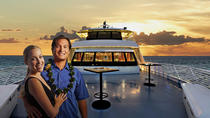 104 Reviews
Enjoy an island'style buffet dinner on a relaxing Oahu Sunset Dinner Cruise as the sun sets on another Hawaiian day. A favorite of families and couples ... Read more
Location: Waikiki, Oahu
Duration: 2 hours (approx.)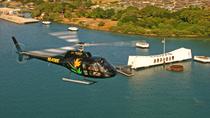 89 Reviews
Discover Oahu's dramatic views and stunning vistas on this 30-minute sightseeing tour by helicopter! Following the helicopter tour, enjoy a romantic sunset ... Read more
Location: Waikiki, Oahu
Duration: 3 hours (approx.)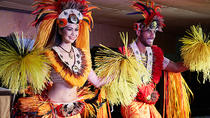 76 Reviews
While the sun goes down, relax on a casual Honolulu dinner cruise on the beautiful Hawaiian waters off Diamond Head. Dine on steak and seafood aboard the Oahu ... Read more
Location: Waikiki, Oahu
Duration: Varies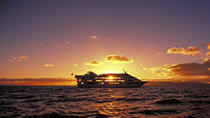 8 Reviews
A fun and exciting evening with a crab and fillet steak dinner plus "60 Years of Aloha"! Filled with continuous enchantment, this cruise includes a ... Read more
Location: Oahu, Hawaii
Duration: 3 hours (approx.)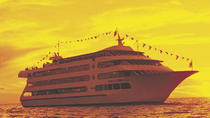 11 Reviews
Be pampered as the sun sets over another perfect day in Hawaii on a luxury Honolulu dinner cruise with live jazz entertainment. Enjoy a seven-course signature ... Read more
Location: Waikiki, Oahu
Duration: Flexible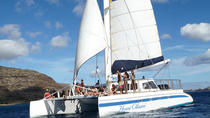 15 Reviews
There's nothing quite like a Hawaiian sunset, and a cocktail cruise by catamaran may be the perfect way to experience one on Oahu. Sailing south along the ... Read more
Location: Oahu, Hawaii
Duration: 90 minutes (approx.)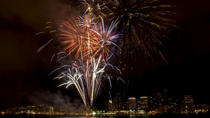 16 Reviews
Start your weekend off with a bang when you watch a fireworks display from a luxury catamaran sailboat during a dinner cruise. On Friday nights, you get to ... Read more
Location: Hawaii, Hawaii
Duration: 2 hours (approx.)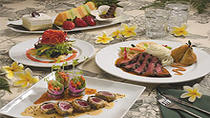 5 Reviews
Enjoy the original Pacific Rim cuisine at your own private table and live contemporary entertainment in the midst of a beautiful, ever-changing tropical ... Read more
Location: Oahu, Hawaii
Duration: 3 hours (approx.)
1 Review
Get the ultimate experience on a 46-foot world renown yacht while enjoying the West Oahu Sunset on this 2.5 hour experience. With a maximum passenger limit of ... Read more
Location: Kapolei, Hawaii
Duration: 2 hours 30 minutes (approx.)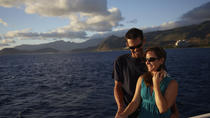 5 Reviews
Nothing beats a Hawaiian sunset at sea. Enjoy a scenic cruise of the West Oahu coast, catching the moment the sun slips below the horizon – you may even see ... Read more
Location: Waiʻanae, Hawaii
Duration: 2 hours (approx.)