Maui Day Trips from Oahu
By Viator, October 2015
Thirty minutes and 80 miles—that's all that separates big city Oahu from the tranquil simplicity of Maui, where waterfalls splash down the verdant slopes of a towering, dormant volcano. Luckily for visitors who want to experience Maui—but are staying in Honolulu—it's still possible to get a taste of this beauty on a Maui day trip from Oahu.
Granted, seeing as Maui was voted the world's best island for 20 years in a row, it isn't possible to see all of its beauty in only a single day. Even those on a day trip, however, can cool off in the pools of Ohe'o Gulch after the tropical journey to Hana, or contemplate the colors that form the moonscape spread out across Haleakala Crater. Learn how Kamehameha conquered Maui at the battle in 'Iao Valley, or stroll the streets of historic Lahaina where missionaries, whalers, royalty and sugar barons helped mold this oceanfront town. 
Cramming in this much adventure, however, can make for a lengthy trip, so travelers should be prepared for an early wake up and try to get a good night's sleep. Tours depart from Honolulu as early as 5 a.m., and oftentimes—given the time change between Hawaii and the mainland—it's a good idea to make the trip when you're still waking up early from jetlag. Be sure to bring a jacket if visiting Haleakala (since the mountainous air can get cold!), and definitely pack a bathing suit for swimming beneath waterfalls if making the voyage to Hana.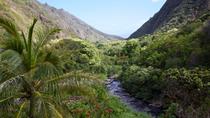 22 Reviews
Fly from Oahu to Maui for a full-day tour that explores the central part of the island, featuring spectacular Mt Haleakala and verdant Iao Valley State Park. ... Read more
Location: Waikiki, Oahu
Duration: 14 - 15 hours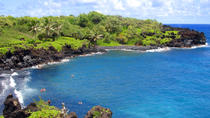 15 Reviews
Fly to Maui for the day from Oahu on a Hana Adventure tour! You'll explore the lush tropical beauty and constantly changing vistas of the world-famous Hana ... Read more
Location: Waikiki, Oahu
Duration: 14 hours (approx.)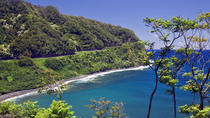 Fly from Oahu to Maui and spend the day exploring the island's natural beauty, including Maui's famously scenic Hana Highway. Your expert guide shares natural ... Read more
Location: Waikiki, Oahu
Duration: 14 hours (approx.)