Oahu Suggested Itineraries
By Viator, May 2015
For many visitors, Oahu is Hawaii. Waikiki, Pearl Harbor, Honolulu – all those names we instantly associate with Hawaii are on Oahu. Away from the famous surf beaches lined with holiday resorts and high-rises, rugged volcanic peaks tower over pineapple plantations and landmarks from Polynesian legends cast their special magic.

Day 1: Tour US History
World War Two history is tangibly linked to Oahu and the events that took place at Pearl Harbor. Pay your respects to the crew who died aboard USS Arizona in December 1941 and step aboard USS Missouri to get an idea of shipboard life. Visit the Pearl Harbor Visitor Center to see film footage from 1941, as well as moving artifacts recovered after the attack. The focus is on the aerial battlefield at the Pacific Aviation Museum, with its collection of rare vintage US and Japanese aircraft.

Day 2: Surfin' Safari
Feeling inspired by watching wannabe Kelly Slaters tame Oahu's monstrous waves? Then why not grab the chance to learn to surf in Oahu? You can have a one-on-one lesson with your instructor, or join a small group of four students. The best beaches to practice your surfing moves are Waikiki, North Shore spots like Puena Point and Cockroach Bay on the east coast. And to see how whales surf the waves, sail around Oahu on a whale-watching cruise to spot humpbacks and dolphins hang ten.

Day 3: Hawaiian Landscapes
Discover Oahu's rainforest heart, on a guided walk through Polynesian forests of rosy-red hibiscus flowers and golden honeycreepers. Don't miss a stroll through the Valley of the Rainbows, to see the iridescent rainbow effect of sunlight reflected on water. The best place to stroll through fields of pineapples is the legendary Dole Plantation, with its cute tourist train and world's largest maze. And if you're an early riser, wake up before dawn to travel to Diamond Head Crater to see the sun rise over Waikiki.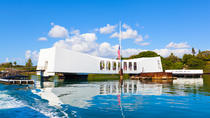 1286 Reviews
Skip all the lines on a memorable Pearl Harbor tour, including a USS Missouri tour and Arizona Memorial admission. This day trip from your Waikiki hotel takes ... Read more
Location: Waikiki, Oahu
Duration: 7 hours (approx.)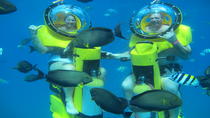 248 Reviews
Enjoy an exciting underwater adventure on Oahu! On this submarine scooter tour, cruise along Maunalua Bay past Diamond Head Crater and then dive under the ... Read more
Location: Honolulu, Oahu
Duration: 2 hours (approx.)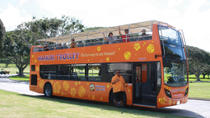 188 Reviews
Explore Waikiki and Honolulu with a choice of hop-on hop-off tours that feature the historic sites, scenic natural beauty and world-class shops and restaurants ... Read more
Location: Oahu, Hawaii
Duration: Flexible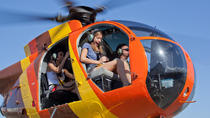 105 Reviews
Enjoy a thrilling flight by open-door helicopter to see the very best of Oahu! With nothing to obstruct your view, you'll soar over Oahu on a spectacular ... Read more
Location: Waikiki, Oahu
Duration: 45 minutes (approx.)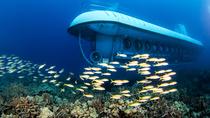 179 Reviews
Dive below the surface of Hawaii's blue waters on an Atlantis Submarine Oahu tour! You'll have a unique chance to observe marine life up close without getting ... Read more
Location: Waikiki, Oahu
Duration: 2 hours (approx.)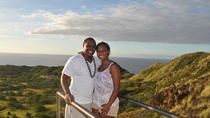 469 Reviews
Enjoy a narrated and fun guided walk to the 763-foot summit of Hawaii's most famous crater for incredible 360-degree views of Waikiki and the Koolau mountain ... Read more
Location: Waikiki, Oahu
Duration: 3 hours (approx.)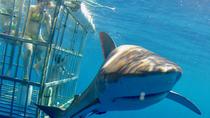 275 Reviews
Book the Oahu Shark Dive to enjoy a thrilling encounter with sharks! Cruise from Oahu's beautiful North Shore to your viewing spot, where you'll observe the ... Read more
Location: Haleiwa, Oahu
Duration: 2 hours (approx.)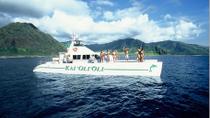 28 Reviews
Explore the natural beauty of Oahu's western coast on a 3.5-hour catamaran cruise that includes a wildlife experience and snorkeling. Glide along the unspoiled ... Read more
Location: Ko Olina, Oahu
Duration: 6 hours (approx.)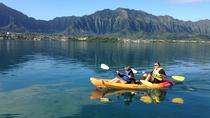 49 Reviews
Kayak over the protected waters of Kaneohe Bay to Coconut Island, aka 'Gilligan's Island,' and snorkel on Oahu's only barrier reef on this tour from Waikiki. ... Read more
Location: Oahu, Hawaii
Duration: 6 hours (approx.)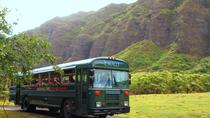 23 Reviews
Take a movie tour at Kualoa Ranch to see where scenes from 'Jurassic Park,' 'Pearl Harbor,' 'Magnum P.I.,' 'Lost' and many other shows were filmed. The ... Read more
Location: Kaneohe, Oahu
Duration: 60 minutes (approx.)