Oahu Underwater Adventures
By Viator, June 2015
From the pulsing shores of Waikiki Beach to the hopping markets of Chinatown, the island of Oahu buzzes with activity during every season of the year. While all of the adventure can definitely be exciting, it can also get a little overwhelming being surrounded by so many people.

The good news, however, is that even on this island of a million residents there's still a place where you can hear yourself think. A place where car horns are replaced by bubbles, and the sight of tour buses clogging the freeway is replaced by fish gently nibbling on the reef. This place, of course, is underwater, and Oahu has a number of undersea adventures which are available to all sorts of visitors.

On the east shore of the island, kayak from Kailua Bay before slipping into the water with a snorkel and mask. Hawaiian green sea turtles and colorful reef fish both inhabit the hidden coves, and you'll also have the chance to paddle the length of some of the state's most beautiful beaches.

For those who would prefer to explore a little deeper, scuba diving is available from the shipwrecks of Honolulu to the lagoons of the leeward coast. For those who aren't yet certified, there are introductory classes at Ko Olina where you can learn the basics of breathing underwater. Or, for certified divers, Oahu offers advanced dives which range from hidden sea caves to sunken barges to a Corsair airplane which sank during World War II.

If you don't like the idea of breathing through a tube—but still want to explore underwater—there are also tours where you can strap on a helmet and take a ride on an underwater scooter. Like a curious type of undersea aquanaut, you can effortlessly watch from the protected confines of your own personal air bubble as Hawaiian green sea turtles go zooming by.

Finally, if you're looking for an adventure that's as exciting as it is extreme, one of Oahu's best underwater adventures is swimming with sharks off the island's North Shore. Motoring out from Haleiwa harbor, visitors are protected by a metal cage from the Gray, Galapagos, and various other shark species which circle the boat for an inquisitive look. While definitely not for the faint of heart, swimming with sharks off the North Shore of Oahu is an experience you'll remember for years after your trip.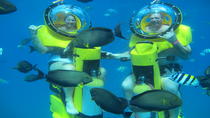 181 Reviews
Enjoy an exciting underwater adventure on Oahu! On this submarine scooter tour, cruise along Maunalua Bay past Diamond Head Crater and then dive under the ... Read more
Location: Honolulu, Oahu
Duration: 2 hours (approx.)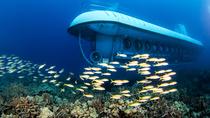 140 Reviews
Dive below the surface of Hawaii's blue waters on an Atlantis Submarine Oahu tour! You'll have a unique chance to observe marine life up close without getting ... Read more
Location: Waikiki, Oahu
Duration: 2 hours (approx.)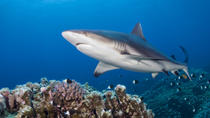 246 Reviews
Book the Oahu Shark Dive to enjoy a thrilling encounter with sharks! Cruise from Oahu's beautiful North Shore to your viewing spot, where you'll observe ... Read more
Location: Haleiwa, Oahu
Duration: 2 hours (approx.)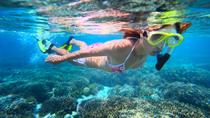 98 Reviews
Go sailing, snorkeling and dolphin-watching on a fun-filled morning cruise along the Leeward Coast! Cruise along the southwestern coast of Oahu and admire the ... Read more
Location: Waikiki, Oahu
Duration: Varies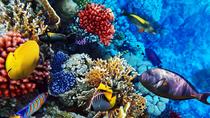 4 Reviews
If you're a certified scuba diver, explore what lies beneath Oahu's turquoise waters on this diving adventure! Enjoy the scenic ride on the dive boat before ... Read more
Location: Waikiki, Oahu
Duration: 4 hours 30 minutes (approx.)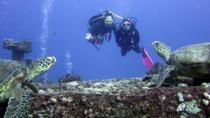 Small groups go out on a USCG inspected boat. Explore Hawaii's underwater world first hand with an experienced dive instructor. Just 2 miles west of Waikiki, ... Read more
Location: Honolulu, Hawaii
Duration: 3 hours 30 minutes (approx.)