Oahu Whale Watching
By Viator, February 2015
Some visitors to Hawaii see nothing more than the airport, the hotel and the beach (and perhaps a souvenir shop or two), completely ignoring the fascinating volcanic interior and the magnificent sea creatures patrolling just off land.

If you can bear to leave the white sands of Waikiki, follow the coastline round until you come to the volcanic crater of Diamond Head, Oahu's southernmost point. From here you can head out on a specially-designed vessel to some of the best whale-watching sites in the world.

Experts on board will describe the behavior of these amazing mammals. Whether you're out on the spacious deck or watching from the air-conditioned cabin, you're guaranteed a sighting. And while you're waiting, there's some local color to enjoy: your trip also includes demonstrations of traditional Hawaiian culture, including lei-making, hula dancing and ukulele playing.

On the Leeward Coast, take to the sea during the breeding season (winter) and you may well spot whales. And not just whales; you can spend a morning or afternoon snorkeling, sailing and swimming with beautiful friendly dolphins. Enjoy crystal-clear waters under dazzling tropical skies as you splash around with these playful creatures.

You won't want to get quite so close to our next offering. Sharks may not be cuddly, but these majestic marine predators are fascinating in their own right. With an adventure cruise off Oahu's North Shore you'll learn to recognize different types of shark including gray reef, Galapagos and the distinctive hammerhead.

You may be happy enough watching from the boat. Which is fine, but you might kick yourself later on if you turn down the once-in-a-lifetime opportunity to head down into the stunningly clear waters in a floating cage. You'll be completely but safe the sight of those big teeth coming towards you is a sight you'll never forget! Don't forget to bring an underwater camera.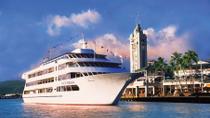 29 Reviews
See humpback whales during their annual migration in the waters off Oahu on a whale-watching cruise from Waikiki. Enjoy great photo ops of the massive mammals, ... Read more
Location: Oahu, Hawaii
Duration:
Morning: 2 Hours
Afternoon: 2.5 Hours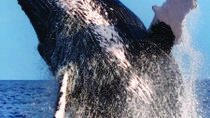 28 Reviews
From late December through early May, thousands of humpback whales migrate to the warm waters of Hawaii. Catch a glimpse of the magnificent mammals on a ... Read more
Location: Waikiki, Oahu
Duration: 2 hours (approx.)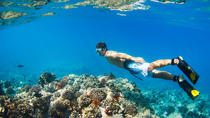 107 Reviews
Head to the west shore of Oahu to swim and snorkel with Hawaii's spinner dolphins! Cruise along the Waianae Coast and snorkel with tropical fish and Hawaiian ... Read more
Location: Waikiki, Oahu
Duration: 6 hours 30 minutes (approx.)