Underwater Adventures in Oahu
By Viator, January 2018
Escape the hustle and bustle of Waikiki by exploring Oahu's Technicolor underwater landscape. Commune with sharks, sea turtles, and tropical fish while listening to humpback whales' songs echo along the reef. Whether you snorkel, dive, paddle, or otherwise get into the water, here are some of Oahu's best underwater adventures.
Take a Snorkeling Cruise by Catamaran to Turtle Canyon
Soak up the sun while sipping cocktails and cruising aboard a catamaran off Waikiki Beach, then don your snorkel and mask for an adventure at Turtle Canyon. The reef site, within view of the downtown skyscrapers and iconic Diamond Head Crater, teems with green sea turtles.
Try Scuba Diving, Snuba, or Underwater Scooters
Itching for a more immersive underwater experience? Certified divers can take a 2-tank boat ride to sites with sunken WWII-era airplanes and shipwrecks. First-timers can breathe underwater too in a "discover scuba" or snuba adventure (where your air is supplied from the surface)—both allow you to stay down long enough to navigate coral pinnacles and befriend colorful fish. In Maunalua Bay, near Hawaii Kai, leave the strenuous kicking up to machines while taking a tour of the seafloor in a self-propelled underwater scooter.
Stay Dry in a Submarine or Glass-Bottom Boat
Search for dolphins and spouting whales at the surface while monitoring the underwater world below in a 2-hour glass-bottom boat tour from Honolulu's Kewalo Basin Harbor. To go deeper and still stay dry, take a submarine tour through coral reefs with local naturalist guides. Unlike with snuba or scuba, you'll be able to hear all the commentary and ask questions as you survey the underwater scene.
Dive with Sharks
Thrill-seekers should head to Haleiwa on the island's North Shore, where boat charters head for the deep blue. Bold guests slide into protective metal cages and drop into the ocean for eye-to-eye views of cruising grey reef sharks, sandbar sharks, and hammerheads.
Kayak to Remote Beaches to Snorkel with Tropical Fish
On the Windward Coast of Oahu, rent kayaks to explore hidden pockets of white sand and offshore seabird sanctuaries; their remote locations make them prime snorkeling spots. From this vantage point you're also in a prime spot for whale watching (in season, November through March).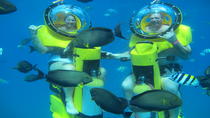 257 Reviews
Enjoy an exciting underwater adventure on Oahu! On this submarine scooter tour, cruise along Maunalua Bay past Diamond Head Crater and then dive under the ... Read more
Location: Honolulu, Oahu
Duration: 2 hours (approx.)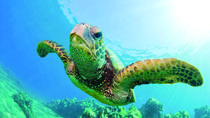 135 Reviews
Set sail for Turtle Canyon on a power catamaran from Waikiki, enjoying a scenic cruise along the shores of Oahu. Your goal: snorkeling in warm waters ... Read more
Location: Oahu, Hawaii
Duration: 3 hours (approx.)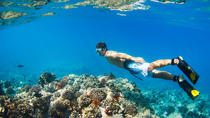 140 Reviews
Head to the west shore of Oahu to swim and snorkel with Hawaii's spinner dolphins! Cruise along the Waianae Coast and snorkel with tropical fish and Hawaiian ... Read more
Location: Waikiki, Oahu
Duration: 6 hours 30 minutes (approx.)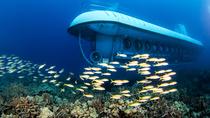 181 Reviews
Dive below the surface of Hawaii's blue waters on an Atlantis Submarine Oahu tour! You'll have a unique chance to observe marine life up close without getting ... Read more
Location: Waikiki, Oahu
Duration: 2 hours (approx.)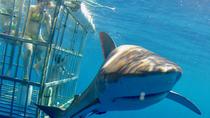 278 Reviews
Book the Oahu Shark Dive to enjoy a thrilling encounter with sharks! Cruise from Oahu's beautiful North Shore to your viewing spot, where you'll observe the ... Read more
Location: Haleiwa, Oahu
Duration: 2 hours (approx.)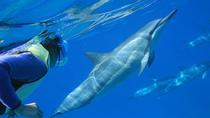 15 Reviews
Join us on our tour for an unforgettable dolphin swim experience! Our tour takes place on the beautiful west side of Oahu where you will have the chance ... Read more
Location: Honolulu, Hawaii
Duration: 7 hours (approx.)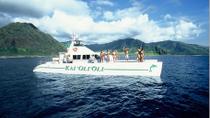 30 Reviews
Explore the natural beauty of Oahu's western coast on a 3.5-hour catamaran cruise that includes a wildlife experience and snorkeling. Glide along the unspoiled ... Read more
Location: Ko Olina, Oahu
Duration: 6 hours (approx.)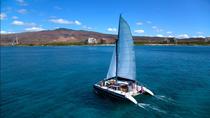 7 Reviews
Enjoy a 4-hour sailing cruise on a gorgeous, 53' foot catamaran from the beautiful Ko Olina Marina on Oahu. Snorkel among millions of fish at 2 different ... Read more
Location: Honolulu, Hawaii
Duration: 5 hours (approx.)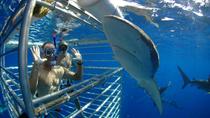 5 Reviews
More than just an adventure, this educational tour takes you into a world that few can ever experience. The open ocean world of sharks! We take you three miles ... Read more
Location: Haleiwa, Hawaii
Duration: 2 hours (approx.)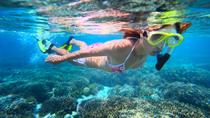 107 Reviews
Go sailing, snorkeling and dolphin-watching on a fun-filled morning cruise along the Leeward Coast! Cruise along the southwestern coast of Oahu and admire the ... Read more
Location: Waikiki, Oahu
Duration: Flexible