Mercado 20 de Noviembre
Golden pyramids of loaves, skeins of carne asada stretched over shimmering coals …the Mercado 20 de Noviembre is sensory overload at its best. Located inside a dim hangar of a building, the famous food market echoes with the shouts of competing cooks and roars with the voices of gossiping patrons. You'll pass through tiny "districts": a square warm with fresh-baked bread, an alley where smoke billows from sausage-strewn grills, a block of fondas (food stalls) where the air is steamy with chocolate con leche (hot chocolate) and spicy with mole negro (a sauce of chiles, spices, and chocolate).

Mercado Benito Juárez
A dark labyrinth that smells like wool and chocolate, Mercado Benito Juárez features booths packed with everything from hand-woven rugs to mezcal. Each sector of the market has great diversity. For example, in the shoe section you'll find a gamut of offerings, including stalls devoted to traditional huaraches or plastic jellies or stylish high heels cleverly upholstered in classic Oaxacan weavings and embroidery. Other sections of the market feature wrestling masks, traditional Oaxacan clothing, coffee, liquor, and local culinary delicacies such as chocolate and quesillo (stringy cheese balls).

Mercado de Abastos
A sprawling flea market with a mind-boggling range of merchandise, including car parts, used clothing, fresh vegetables, cane baskets, wooden molinillos (chocolate-stirrers), ceramic and tin miniatures, and the region's famous black pottery. The deals are good—for example, you can find Teotitlán del Valle rugs for the same price you'd pay in the village itself.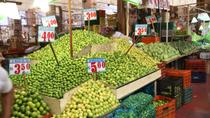 5 Reviews
This tour will introduce you to the Zapotec culture and Spanish colonial history of Oaxaca as you visit several traditional towns outside the city. Meet your ... Read more
Location: Oaxaca, Mexico
Duration: 4 hours 30 minutes (approx.)