Ocho Rios Cruise Port Tours
Jamaica is known for much more than its Bobsled team! The small town of Ocho Rios is the ultimate gateway to a plethora of sightseeing and cultural experiences on the North Coast of the island. Originally a fishing village, Ocho Rios has grown into a noted port of call for cruise ships and a bustling economy has developed around the influx of tourists.

The cruise port is located in convenient walking proximity to downtown Ocho Rios, a mid-sized town with six shopping plazas and an abundance of bars and restaurants. The taxi drivers around the pier have a reputation for being very aggressive. Be polite in denying their solicitations, but don't let them intimidate you.
One Day on Jamaica
Although somewhat tourist congested, you cannot visit the North coast without seeing Dunn's River Falls, one of the most spectacular waterfalls you will ever see. The Horseback Tour will allow you to enjoy the view from a unique perspective and also takes you along the Caribbean Sea.  
Pay tribute to the iconic film "Cool Runnings" and a fun slice of Jamaica's recent history, and check out the Bobsled Tour at Mystic Mountain. You control the speed of your sled as you make your way through the Jamaican jungle.
You don't even need to travel far from port to have a Jamaican adventure! The Green Grotto Caves are located right in Ocho Rios and are full of geologic wonders and subterranean history.
Port Information
The official language of Jamaica is English (with that characteristic accent), and the currencies are the Jamaican Dollar or the US Dollar. Watch out for prostitutes and locals hawking drugs around the pier; oftentimes, they are working for the police to nab unsuspecting tourists.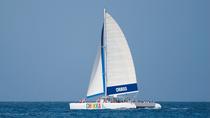 65 Reviews
Cruise through the clear waters of the Caribbean aboard a spacious catamaran and discover where Dunn's River Falls meets the sea. Snorkel over spectacular ... Read more
Location: Ocho Rios or Montego Bay, Jamaica
Duration: Varies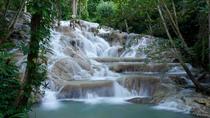 3 Reviews
Visit the famous Dunn's River Falls to experience a 1.5 hour fun-filled adventure. Explore the facility that has the rustic charm of a natural setting and a ... Read more
Location: Ocho Rios, Jamaica
Duration: 2 hours (approx.)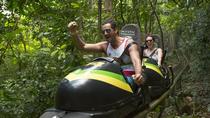 Hold onto your hat: this is one wild ride! Inspired by the famous Jamaica bobsled Olympic team, the Mystic Mountain Bobsled near the Dunn's River Falls is the ... Read more
Location: Ocho Rios, Jamaica
Duration: 3 hours (approx.)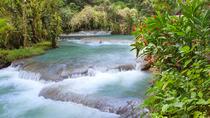 27 Reviews
When your cruise ship pulls into Ocho Rios, take a shore excursion to nearby Dunn's River Falls, one of Jamaica's most popular natural attractions. Climb up ... Read more
Location: Ocho Rios, Jamaica
Duration: 5 hours 30 minutes (approx.)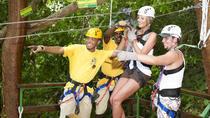 1 Review
While you're off your cruise ship in Ocho Rios, spend your time soaring high above the Jamaican rainforest. The Sky Explorer shore excursion at Mystic Mountain ... Read more
Location: Ocho Rios, Jamaica
Duration: 2 hours (approx.)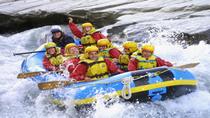 2 Reviews
While in port in Jamaica, enjoy the beautiful tropical scenery on this river-rafting shore excursion down the Rio Bueno, one of Jamaica's most scenic rivers! ... Read more
Location: Ocho Rios, Jamaica
Duration: 3 hours 30 minutes (approx.)
Enjoy the ultimate combination of nature and adventure with both waterfalls in Ocho Rios, the Blue Hole and Dunn's River falls. Duration of this tour is ... Read more
Location: Ocho Rios, Jamaica
Duration: 4 hours (approx.)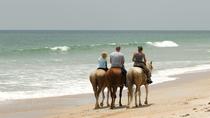 7 Reviews
What's more breathtaking while in port in Ocho Rios than horseback riding on the beach? Depart your cruise ship for a Jamaican adventure on horseback. ... Read more
Location: Ocho Rios, Jamaica
Duration: 2 hours 30 minutes (approx.)
Friendly service, fully air conditioned vehicle, complimentary bottled water provided, transportation to and from point of departure
Location: Ocho Rios, Jamaica
Duration: 3 hours (approx.)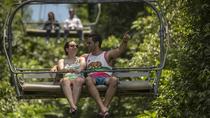 1 Review
Mystic Mountain Rainforest Adventure is an eco-friendly attraction located one(1) minute from the world's famous Dunn's River Falls. Situated between the ... Read more
Location: Ocho Rios, Jamaica
Duration: 90 minutes (approx.)