Oman Desert Safaris
By Viator, December 2013
Day trip safaris into the Omani desert combine the cool green of wadis and endless vistas of rolling dunes, impenetrably rocky mountains and ancient villages built into the desert walls.

Visit Nizwa, the capital of Oman's interior region, to haggle for bargains in the souk and stroll the picturesque battlements of ancient forts, then head into the Wahiba desert.

This is the land of the Bedouins, date palm oases and the softly rounded shapes of dunes extending into the hazy desert distance. Drive over undulating acres of sand dunes and canyons, take a bumpy ride on a camel, and discover hidden pools and lush green wadis.

Drive through the barren hills of the Hajar Mountains to date farms and a hilltop lookout on Jebel Shams, the Mountain of the Sun, for panoramic views of Oman's desert landscapes.

Or take an off-road safari adventure to Thowarah for warm desert mineral springs and ancient rock paintings. A beach safari to Wadi Shab encounters long stretches of empty beaches fringed with palm trees, stopping at wadi oases en route.

Creature comforts aren't forgotten on desert safaris, with Bedouin-style picnic lunches and air-conditioned 4x4 vehicles. Although it's warm out there, bring a jacket in winter months for visits to elevated regions, especially in the evening. Sunhats and sunglasses are essential, and remember to wear conservative clothing that covers your shoulders and knees. It's best not to point your camera at the locals, and don't even think about photographing government or military buildings.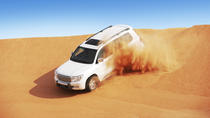 6 Reviews
Your 4x4 vehicle will take you through the fascinating Hajar Mountains, and the town of Ibra to Wadi Bani Khalid, one of Oman's most beautiful wadis (dry river ... Read more
Location: Muscat, Oman
Duration: 9 hours (approx.)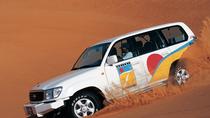 1 Review
Your private 4x4 vehicle off-road a dirt track meanders through the fascinating Hajar Mountains to Wadi Abyad, famous for its water pools. The tour proceeds to ... Read more
Location: Muscat, Oman
Duration: 6 hours (approx.)