Crater Lake National Park Tours
At 1,943 feet deep, Crater Lake owns the title of America's deepest lake (not to mention, it's the ninth-deepest in the world). Even just 300 feet below, the average temperature is a chilly 38 degrees, but diehard swimmers are in luck. In the summer, the surface of the lake can warm to about 60 degrees.
The only safe and legal place to take a plunge is at the end of Cleetwood Cove Trail, which typically opens in mid to late June. But there are plenty of other activities to keep you busy in the park as well. Fishing is allowed and encouraged along the shoreline and on Wizard Island, which sits in the middle of the lake. There's no limit on how many fish you can catch, but artificial bait must be used.
The crater filled with water seen today was created almost 8,000 years ago when its former volcano erupted, then collapsed. Crater Lake isn't fed by any rivers or streams, but instead gets its water from only rain and snow—lots of it. Crater Lake National Park receives an average of 533 inches (about 44 feet) of snow per year.
Practical Info
You have two airports to choose from when flying to Crater National Lake Park—Klamath Falls is located 60 miles from the park, and Medford is 80 miles from the park. You can rent a car at both locations. The park's north entrance closes for the winter and spring seasons, and while dates can fluctuate, expect the entrance to be closed from early November to June. Roads in and near the park are mountain roads, so use caution during all seasons. Plan ahead—the nearest gas stations to the park are 35 miles away in Chiloquin and Prospect. Visitors should also expect to have little or no cell phone coverage.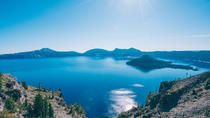 1 Review
Embark on this 3-day excursion from Portland to Crater Lake National Park and back. Explore one of Oregon's beautiful State Parks and visit a  vineyard to ... Read more
Location: Portland, Oregon
Duration: Flexible