Crystal River
A 90-minute drive north of Tampa or northwest of Orlando, Florida's Crystal River offers a wildlife experience unlike any other in the Sunshine State: the chance to get up close to endangered West Indian manatees in their natural habitat and even interact and play with them.
The manatees make their home in the Crystal and Homosassa Rivers, in the Crystal River Preserve State Park on the Gulf coast of central Florida. These "gentle giants," or sea cows, can be found here year round, but during the winter months when the Gulf waters get colder, they come by the hundreds to enjoy the warmer waters of the shallow, crystal-clear rivers. Given the clear water and high concentration of manatees, the Crystal River area is the best place to see a manatee in the wild and swim alongside it. Wildlife experts lead excursions onto the river, where they'll be on the lookout for signs of manatees just below the surface. When one is spotted, swimmers don wetsuits, snorkels and flippers and slide into the water for a very special encounter.
Since the animals are wild, there's no guarantee you'll see a manatee, but that's part of what makes the experience so exciting. The manatees are protected under several special laws, and swimmers are not allowed to chase them, hold them, or touch them with more than one open palm; the interaction is all on the manatee's terms. But manatees tend to be quite social and playful, and more often than not they approach the swimmers first, allowing themselves to be caressed as they munch on seaweed or float on the current.
The Crystal River is also home to dolphins, plentiful fish and amphibians, and waterfowl. The surrounding Crystal River Preserve State Park provides a habitat for other more dangerous animals, including alligators, but these predators avoid the river, so there's no need to worry while snorkeling with the manatees.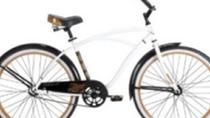 Imagine a picture perfect day cruising along Crystal River's Cross Town Bike Trail in front of Three Sister's Springs, and that's exactly what you'll get while ... Read more
Location: Crystal River, Florida
Duration: Flexible