Forever Florida
If you look at a map of Central Florida, there is a large swath of land about an hour southeast of Orlando where there are no towns, no roads, and hardly any man-made influence to speak of. That's because this 4,700-acre expanse of wilderness is protected as part of a massive eco-ranch and conservation area known as Forever Florida, one of the last remaining places in the area home to Central Florida's unique natural eco-system.
Created as a way to protect Central Florida's natural treasures from urbanization and a rapidly growing population, Forever Florida now educates and entertains visitors by offering zip-line safaris, horseback riding safaris, and even overnight camping and horseback riding excursions where guests can sleep beneath the stars as the sounds of nature lull them to sleep. For a faster-paced nocturnal adventure, why not try the moonlight ziplining tours where you jump into the dark abyss and cruise at speeds up to 30 mph through swamps and marshlands which teem with active wildlife.
Forever Florida is home to a wide array of tree and plant species native to Central Florida, and wildlife living on the conservation area includes scores of alligators, white-tailed deer, black bears and even endangered Florida panthers which lurk amongst the cypress and marshlands. Just next door to Forever Florida, guests can also visit the Crescent J cattle and horse ranch, a fully-working ranch which features unique species of Florida Cracker Horses and breeds of cattle dating back to the days of Spanish colonialists.
An authentic look at the natural, quickly disappearing beauty of Central Florida, visitors to Forever Florida aid in the conservation and protection of this unique American habitat through ever visit and eco-adventure they enjoy while on their trip.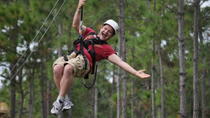 7 Reviews
Take a thrilling zipline safari through the nine pristine ecosystems of the Forever Florida eco-ranch and wildlife conservation area, south of Orlando. This ... Read more
Location: Orlando, Florida
Duration: Total duration is 4-hrs including check-in and transport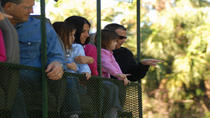 9 Reviews
Take a ride on the wild side during an open-air coach safari through Forever Florida, a 4,700-acre (1,880-hectare) eco-ranch and wildlife conservation area ... Read more
Location: Orlando, Florida
Duration: 2 hours (approx.)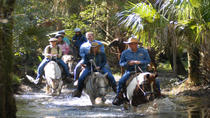 19 Reviews
Saddle up for the best horseback-riding experience in central Florida! Enjoy Florida's natural beauty on a one-of-a-kind adventure as you ride on horseback ... Read more
Location: Orlando, Florida
Duration: 90 minutes (approx.)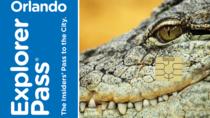 24 Reviews
With the Orlando Explorer Pass you get to choose from a variety of attractions to create your own sightseeing itinerary. It's the easiest and most affordable ... Read more
Location: Orlando, Florida
Duration: Flexible