If the name Orlando, Florida is synonymous with 'theme parks' for you, and if the knowledge that it's a reputation well-earned daunts you, don't worry; we've got you covered. Though Orlando's theme parks can be numerous, we've highlighted the best, to make a simple task out of a mighty magic mountain.
Walt Disney World
Walt Disney World is without a doubt one of the most famous theme parks in the world. Bristling with life-sized icons from your favorite animated childhood movies, everything in this larger-than-life park is technicolor bright and very huggable. A favorite of both children and adults, there is plenty to do and see for the whole family. Catch your favorite president in almost-real-life at the Hall of Presidents, scare yourself silly in the Haunted Mansion, relax and go golfing, or ride a spaceship in an Astro Orbiter; Disney has it all. These attractions are spread across six theme parks, however, and so booking tickets between them can be expensive and confusing. Opt for the easy and flexible route with a Magic Your Way Ticket.
Universal Orlando Resort
Universal's claim to fame is the magic of the silver screen. Cinema and all its magic is on adventurous display at these family-oriented blockbuster theme-parks. Both Universal Studios Florida and Universal's Islands of Adventure offer rides to their patrons, but each side of the park harbors unique experiences. It's best to buy a ticket that will allow you to discover both sides, especially if you want to enjoy the Harry Potter attractions across parks. Take the Hogwarts Express to get from one magical land to the next! Be sure to check out the special events for Halloween and Christmas too.
LEGOLAND Florida
Dedicated to the classic technicolor building block, LEGOLAND Florida brings LEGO creations to life through animation and life-size models. Home to a water park and thrill rides, this place has got it all! Plan on spending a full day here with the family.
SeaWorld
Love the ocean? Then Orlando's SeaWorld is for you. See the world of marine mammals and learn about their lives in the world's oceans. This unforgettable journey into the deep will bring you face to face with whales, dolphins, polar bears, sharks, and turtles. And with SeaWorld's new Aquatica, a river floats you through an undersea world of colorful fish, and another races you into rolling rapids. Sounds like fun, right?
Wet 'n Wild
Consistently voted America's number one water park, Wet 'n Wild is not like most other water parks you've been to. Combining multi-sensory experiences with more multi-person tube rides than any other water park in Orlando, this water park is the park for everyone. If pulsating lights, disco-themed rides, and rides like the Black Hole and the Brain Wash aren't your thing, there's always the Lazy River float through Florida's past, a Surf Lagoon, and a kid's area to treat all comers. Definitely a must-do for the family over the hot summers!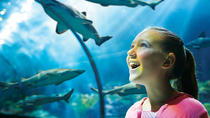 59 Reviews
Spend a day at SeaWorld® Orlando and come face-to-face with the ocean's most fascinating marine animals. With more than 30 family-friendly attractions, shows ... Read more
Location: Orlando, Florida
Duration: Varies
8 Reviews
Enjoy the day at Aquatica Orlando - a whimsical, one-of-a-kind water park that could only come from SeaWorld! Float through an undersea world of colorful fish, ... Read more
Location: Orlando, Florida
Duration: Flexible
With the Universal Orlando 2-Park Ticket, you can experience as much as you can within two amazing theme parks! Experience the pulse-pounding thrills of ... Read more
Location: Orlando, Florida
Duration: Flexible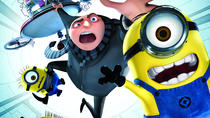 64 Reviews
At Universal Orlando® Resort you'll find two amazing theme parks, non-stop nightlife and more, all in one convenient location. Experience the pulse-pounding ... Read more
Location: Orlando, Florida
Duration: 14 consecutive days
14 Reviews
LEGOLAND® Florida Resort is Central Florida's newest theme park! This 150-acre (60-hectare) family theme park located in Winter Haven, just 47 miles (76 km) ... Read more
Location: Orlando, Florida
Duration: Flexible
145 Reviews
Buy in advance and save! Universal Orlando® Resort lets you create the Ticket that's just right for you and your family. Buy as many days as you like, then add ... Read more
Location: Orlando, Florida
Duration: Flexible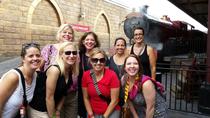 1 Review
Enjoy VIP tour guide services at either Walt Disney World Resort, Universal Studios Orlando or SeaWorld Parks. Enjoy your family vacation and let your VIP ... Read more
Location: Orlando, Florida
Duration: Flexible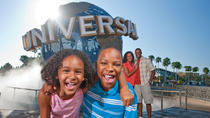 185 Reviews
With the Universal Orlando 3-Park Ticket, you can experience as much as you can within two amazing theme parks and one waterpark during seven (7) consecutive ... Read more
Location: Orlando, Florida
Duration: Flexible
48 Reviews
Delight your kids with breakfast with their favorite Disney characters! Travel in style aboard luxury transportation from your Orlando hotel to Chef Mickey's ... Read more
Location: Orlando, Florida
Duration: 3 hours (approx.)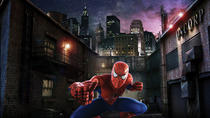 8 Reviews
At Universal Orlando® Resort you'll find two amazing theme parks, non-stop nightlife and more, all in one convenient location. Experience the pulse-pounding ... Read more
Location: Orlando, Florida
Duration: Flexible