Skipping over floating brush and water, the iconic image of the airboat with its enormous fan is quintessentially American Southern. If you visit the Everglades or any of Florida's many subtropical waterways, you'll quickly realize that the airboat is the preferred method of transportation for a reason. It's simple, it's efficient, and just plain fun.
From flying (well, boating really) across the vast water plains to the Kennedy Space Center to swimming with the manatees or dolphins or just simply taking in all that the wilderness has to offer, you'll be sure to get your fair share of exposure to what the wilderness keeps in store for you.
And as your chosen airboat propels you forward at speeds of up to 45mph (72 k/h), you'll see why Florida is known for its complex ecosystems. Pine forests abut winding creeks, which then flow into watersheds that eddy out into the floating brush and swampland that is the Everglades. All this leads to a fantastic diversity of wildlife, and an airboat is a fun and exciting way to see sea manatees, alligators, Egrets, Cranes, Nutria and many more critters that call this area home.
170 Reviews
Experience the spills and thrills of space travel plus the wild beauty of the Everglades on this fun-filled combo day trip from Orlando! Discover ... Read more
Location: Orlando, Florida
Duration: 11 hours (approx.)
113 Reviews
On this tour from Orlando, take a narrated boat cruise on the Crystal River to snorkel and swim with manatees -- the gentle giants of the Florida Everglades. ... Read more
Location: Orlando, Florida
Duration: 12 hours (approx.)
66 Reviews
Explore the natural side of Florida and experience its peaceful beauty on an adventure through the Florida Everglades. This ultimate Florida experience ... Read more
Location: Orlando, Florida
Duration: 30 minutes or 1 hour
104 Reviews
This day trip from Orlando takes you to two of Florida's most famous destinations: Miami and the Florida Everglades. Search for gators on an exciting airboat ... Read more
Location: Orlando, Florida
Duration: 15 hours (approx.)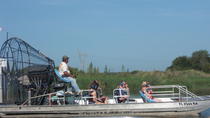 31 Reviews
Take a wild ride in an airboat to discover the Florida wetlands south of Orlando. Keep your eyes open during your exciting ride through the wetlands, you never ... Read more
Location: Orlando, Florida
Duration: 30- or 45-minutes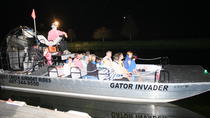 5 Reviews
The ever popular Florida Airboat Adventure at Night is for those in search of adventure and thrills. Your captain will wear a miners cap that will help ... Read more
Location: Orlando, Florida
Duration: 60 minutes (approx.)