Nothing says "all-American family vacation" like a trip to down to sunny Orlando, Florida. The kids will be enthralled, laughing with the idols of the baby-boom era, such as Donald and Pluto, while mom and dad can have a romantic ocean-side dinner or a majestic sunrise balloon ride. Surrounded by a plethora of once-in-a-lifetime activities and luxury accommodations, the single worst thing about taking the family down to The City Beautiful, is leaving. Here are a few ideas for getting the most out of your trip.

Day 1: Walt Disney World at Epcot Center

I don't think the kids will give you much of a choice here. They want Mickey, and they want him now. Don't worry though, there is more than enough excitement to go around. Go visit Nemo at The Seas with Nemo & Friends aquarium or check out the futuristic flight simulator Mission: Space. Of course then there is the Imaginations! pavilion at Future World, or go visit the World Showcase for a taste of 11 different cultural experiences.

Day 2: Universal Studios

The other must-see theme park in Orlando, the excitement continues at Universal Studios with the Terminator 2: 3-D Show, Shrek 4-D, Jimmy Neutron's Nicktoon Blast, and the kid-friendly Curious George Goes to Town. If you are running short on time, you can pay to cut the lines--and on a short trip, it would be worth your while. Also take a visit to Revenge of the Mummy, followed by Jurassic Park, then close the day out with a big meal at the 1950's drive-in throw-back, Mel's Drive-In.

Day 3: Disney's Magic Kingdom

If Day 3 happens to be your last, there is no better way to enjoy it out than with Disney's Magic Kingdom. If there is one park that can make you feel like a child again, this is it.

If you get a Fastpass, you can zip through the lines at Splash Mountain, Thunder Mountain Railroad, or the Magic Carpets of Aladdin...considered the monsters of theme-park world. Speaking of monsters, don't miss out on the Haunted Mansion, and for the older crowd hop on the famous Space Mountain. And when all's said and done, say goodbye the way Walt Disney himself envisioned it, watching the majestic fireworks display bursting over the fairytale Cinderella's Castle.
81 Reviews
Make your childhood fantasies come true with a sunrise flight over Orlando in a hot-air balloon. You'll float effortlessly over the forests, orchards and ... Read more
Location: Orlando, Florida
Duration: 3 hours (approx.)
477 Reviews
Take a virtual flight to the moon and back at one of Florida's best attractions! On this full-day Kennedy Space Center tour from Orlando, tour the NASA ... Read more
Location: Orlando, Florida
Duration: 11 hours (approx.)
14 Reviews
LEGOLAND® Florida Resort is Central Florida's newest theme park! This 150-acre (60-hectare) family theme park located in Winter Haven, just 47 miles (76 km) ... Read more
Location: Orlando, Florida
Duration: Flexible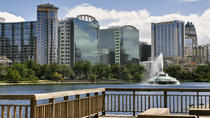 60 Reviews
Discover there is more to Orlando than theme parks on a guided sightseeing tour of the city. Take a scenic cruise around the "Chain of Lakes" in ... Read more
Location: Orlando, Florida
Duration: 7 hours (approx.)
157 Reviews
Buy in advance and save! Universal Orlando® Resort lets you create the Ticket that's just right for you and your family. Buy as many days as you like, then add ... Read more
Location: Orlando, Florida
Duration: Flexible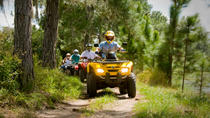 28 Reviews
Get ready for a wild ATV (all-terrain vehicle) adventure just 15 miles West outside of Orlando! Set in 230 acres (93 hectares) of land, this tour allows you to ... Read more
Location: Orlando, Florida
Duration: 2 hours (approx.)
1 Review
Enjoy an action-packed day of carefree fun and entertainment at Fun Spot America! Perfect for the whole family, this theme park features thrill rides, roller ... Read more
Location: Orlando, Florida
Duration: 1 day (approx.)
14 Reviews
Enter the world of the uncanny and bizarre at Ripley's Believe It or Not! in Orlando. Explore hundreds of bizarre and fascinating artifacts displayed in more ... Read more
Location: Orlando, Florida
Duration: Varies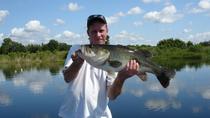 6 Reviews
Whether you're an aspiring fisherman or a lifelong angler, take advantage of being in Florida, the "Trophy Bass fishing capital of the world," as you spend a ... Read more
Location: Orlando, Florida
Duration: 4 hours (approx.)