Rarely in life do we get a chance to remember what it's like to be a kid again. We run about our daily lives, frantically ticking things off our 'To Do' list, checking emails and answering our phones, until while driving off on one of our many errands, we catch a glimpse of a child running wild in the park and we pause and reminisce, and our bones ache to be that free again. And while swimming with dolphins is not a magical time-machine that will whisk you off to Never-Neverland, the joy you will feel is comparable.
Orlando, Florida is known for its fairytale good times, and a two-day airboat excursion to Key Largo to swim with the dolphins is a legend in itself. There is something spiritually uplifting about looking into the knowledgeable eye of perhaps the world's second-smartest mammal and seeing that it only wants to play with you, to dazzle you, to tow you about with its firm body, splash water on you, and kiss you on the cheek. That, and the ride itself gets you up close and personal with alligators, snakes and other Florida oddities like nutrias – whatever one of those is.
Your dolphin swim lasts around 1.5 hours, which includes an educational briefing where you will learn about dolphins in general, as well as about the individual dolphins you will swim with. Interaction time lasts about 20-30 minutes.
Also included on your overnight tour is the wildest airboat ride in Florida, with plenty of 180-degree and 360-degree spins. You may come face-to-face with local 'gators so keep your hands inside the boat! You'll also discover a world of reptiles at an alligator and snake-handling show at the Everglades Alligator Farm, which will include some great photo opportunities.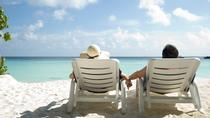 35 Reviews
Escape the hustle and bustle of Orlando with a day trip to Clearwater Beach. Your relaxing day on Florida's west coast comes with a lunch voucher and the ... Read more
Location: Orlando, Florida
Duration: 12 hours (approx.)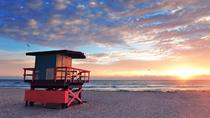 62 Reviews
On this 2-day Miami South Beach adventure, take a thrilling airboat tour through the Florida Everglades, enjoy free time to shop at Bayside Marketplace, and ... Read more
Location: Orlando, Florida
Duration: 2 days (approx.)