It should come as no surprise that the city home to the largest theme park on the planet is also home to a dazzling array of evening shows. Although Disney may dominate the overall Orlando market and is nearly synonymous with the city itself, there are dozens of shows in Orlando which have nothing to do with Disney yet still off entertainment for all visitors and ages.
Seeing as Orlando is such a family destination, why not carry the excitement from a day at the theme park over into the evening hours by heading to one of Orlando's family-friendly dinner shows. Follow a princess and a genie at the Arabian Nights dinner show as they ride real horses inside the world's largest indoor equestrian arena on their nightly adventure around the globe. Or, young swashbucklers and buccaneers will love taking part in the Pirates Dinner Adventure, the world's largest dinner performance where patrons are captured and brought aboard a pirate galleon as hostages of Sebastian the Black and his Broadway-worthy band of performers. 
Not all the shows in Orlando are themed dinner shows, however, and the city still boasts top-notch performances on par with those found in any entertainment center across the globe. Take, for example, the Blue Man Group, the curiously colored collection of performers who are constantly pushing the boundaries which fuse technology and music. Though the show isn't recommended for children under the age of five, older children and adults alike can appreciate the creativity of the bizarre instruments and the organ-rattling excitement of the tremendous music and bass.
The most critically acclaimed of all the shows in Orlando, however, is undoubtedly the La Nouba show created by Cirque du Soleil. Despite being one of the newer shows on the global Cirque du Soleil circuit, La Nouba entrances Orlando visitors with the trademark magic and high-flying professionalism which has become known of Cirque du Soleil. A show which will make an unforgettable impression on the entire family, La Nouba remains as the show to beat in Florida's happiest city.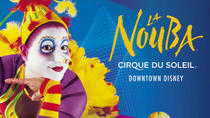 49 Reviews
A door opens and two worlds collide in 'La Nouba,' the Cirque du Soleil show at Walt Disney World Resort in Orlando. Enter the attic of make-believe, where the ... Read more
Location: Orlando, Florida
Duration: 90 minutes (approx.)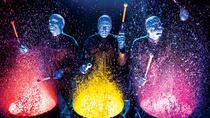 23 Reviews
Watch as the Blue Man Group takes its amazing live celebration of art, technology and music to a whole new level! Experience incredible new performances and ... Read more
Location: Orlando, Florida
Duration: 105 minutes
35 Reviews
Ahoy mateys... You have been captured by the pirates for a night of frivolity and fun in Orlando! Join your fellow hostages for a feast fit for a king. Enjoy a ... Read more
Location: Orlando, Florida
Duration: 2 hours 30 minutes (approx.)
31 Reviews
Bring along your investigative skills and your appetite, and be prepared to laugh your way through the evening at Sleuth's Mystery Dinner Shows in Orlando, ... Read more
Location: Orlando, Florida
Duration: 2 hours 30 minutes (approx.)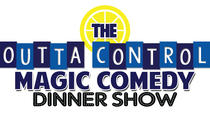 26 Reviews
The 90-minute Outta Control Dinner Show in Orlando is a one-of-a-kind experience which entertains audiences of all ages. You won't just watch the show, you'll ... Read more
Location: Orlando, Florida
Duration: 90 minutes (approx.)
15 Reviews
Treasure Tavern is Orlando's newest dinner show and nighttime experience. Gretta the tavern maven escorts you into an exciting performance of Caribbean-themed ... Read more
Location: Orlando, Florida
Duration: 2 hours (approx.)