Having a car can certainly make a trip to Disney World more convenient. That being said, it isn't impossible to fully experience the theme park without one. Transfers, trolleys, buses, trains and taxis make getting to and from Disney simple, while Disney Resort guests receive complimentary transportation. Bonus: You won't have to pay for parking at the theme park or drive through aggravating traffic. To help you plan your trip, here is a guide to visiting Disney World without a car.
The first thing you need to figure out when visiting Disney World without a car is how to get from the airport to your hotel. One option is Disney's Magical Express, a free airport shuttle and luggage delivery service provided free for select Disney Resort guests. At your home airport you'll be able to check your luggage to have it brought directly to your Disney Resort from Orlando International Airport. Upon arrival into Orlando, you should head to the Disney Welcome Center on the Level One/B side of the airport to be scheduled for the next available shuttle to your accommodation.
If you're visiting Disney World without a car, and not staying at a Disney Resort, there are some other options. First there is the I-RIDE Trolley, a cheap and convenient way of getting around Orlando. While it doesn't go directly to Disney World, you'll be able to purchase a ride for $1.25 and get off at Sea World to transfer to the Lynx Bus 50 or 111 (always double check this with your trolley driver, as routes sometimes change). This bus will be about $2 each way, and takes about an hour. If you're a fan of train travel, you can take a train to Kissimmee -- located about 20 minutes from Disney World -- and either catch Bus 56 or take a taxi to the theme park.
However, though both options are cheap, they are time-consuming, and unless you're traveling light, it can be a tiring hassle to transfer with luggage and kids in tow.
The most convenient option for visiting Disney World without a car is pre-booking shuttle services to get you to and from where you want to go. For example, an
Orlando Attractions Roundtrip Transfer
will take you around in a comfortable vehicle to and from your hotel and Disney World as well as other Orlando attractions of interest for about $16 total. There are also airport transfers for less than $20 roundtrip.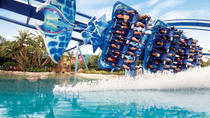 135 Reviews
Take the easy way and book your transfers to all the best Orlando attractions here. Transfers run from early in the morning to late at night so you won't miss ... Read more
Location: Orlando, Florida
Duration: Varies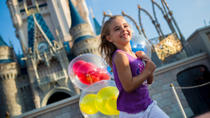 18 Reviews
Take the stress out of getting to Walt Disney World from Miami with this convenient one-day admission ticket that includes transportation from your Miami ... Read more
Location: Miami, Florida
Duration: 15 hours (approx.)