Nara Tours from Osaka
By Viator, December 2015
Nara, located in Japan's Kansai (Southern) region, was the country's first permanent capital city, established in the year 710 AD. Nara is easily accessible from Osaka via either high-speed train or bus and it's well worth the effort—especially if you're  returning to Osaka in the same day. The abundance of UNESCO World Heritage sites, the accessibility of some of Japan's oldest Buddhist temples and the beautiful Japanese gardens make this compact little city a great attraction. A half-day or full-day tour is a great way to absorb some of these quintessential Japanese sights.

Topping the list of the 'Must See's' is the Todai-ji Temple. Built under the flourish of Buddhism, the Todai-ji Temple is the world's largest wooden building, and houses an enormous bronze Buddha (Japan's largest, in fact). So impressive is this temple, the Japanese elite decided to move the capital of the country from Nara to Nagaoka in 784 in order to reduce the influence the temple was having in their government.

And located just outside of the Tadai-ji Temple is the Isui-en Garden. A great escape for those feeling overwhelmed by the hustle and bustle of Japan's busy streets, these beautiful rolling hillsides flecked with Japanese cherry trees and intricate little bridges make the pebbled paths a welcome respite for those peace-loving visitors.

Another highlight of any trip to Nara is the Naramachi Center. This former merchant center is filled with rustic, beautiful little townhouses that will come to mind whenever anyone from here-on-out mentions Japan. These cute, narrow streets are now home to a list of boutiques, shops, cafes and restaurants and give Nara a personal, cultural feel – a great way to wind up any stop in beautiful Nara.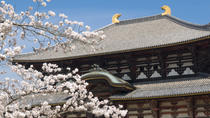 182 Reviews
See the main sights of both Kyoto and Nara in one day! This day trip from Osaka takes you on a morning tour of Nijo Castle, Kinkaku-ji Temple (Golden ... Read more
Location: Osaka, Japan
Duration: 11 hours (approx.)
30 Reviews
Enjoy an afternoon visit to Nara, whose combined historic monuments make the ancient city a UNESCO World Heritage site. This imperial capital from the 8th ... Read more
Location: Osaka, Japan
Duration: 6 hours 30 minutes (approx.)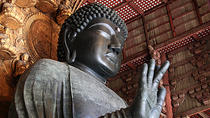 Nara City is the old capital city of Japan and the birthplace of Japanese Buddhism because of which a lot of Buddhist temple was built and many of them are now ... Read more
Location: Osaka, Japan
Duration: 8 hours (approx.)