Things to Know About Food Culture in Osaka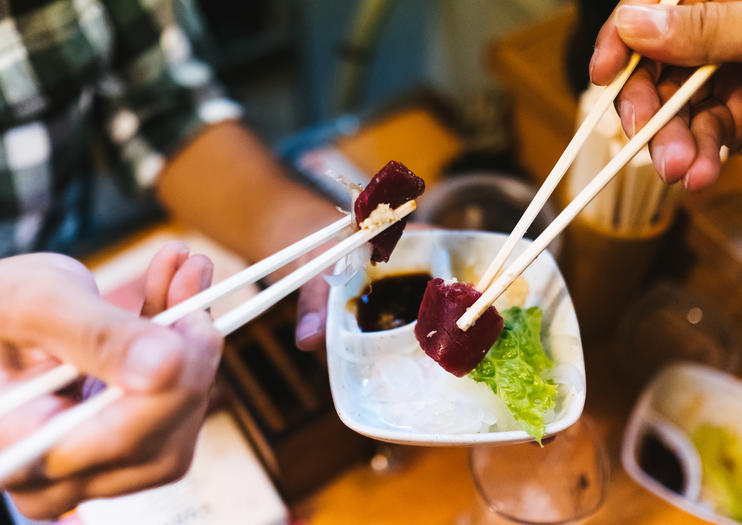 Osaka's food culture can be summed up in one word: kuidaore, which roughly translates as eat until you drop. Osakans love food, and the city is a Japanese culinary highlight, with everything from sushi to street foods to ramen on offer. Here's what to know about Osaka's expansive culinary scene.
Where to Go: The Entertainment Districts
The most concentrated selection of Osaka's best restaurants are found in the city's main entertainment districts–Umeda (Kita area) and Dotonbori (Minami area). Street food stalls and izakayas packed into these districts cook up many of Osaka's favorite dishes, from piping hot takoyaki (octopus balls) and okonomiyaki (savory pancake) to kushikatsu (skewers of deep-fried meat and veggies) and sushi. Take your cues from the locals; if a place is crowded, it's probably good.
How to Indulge on a Food Tour
The sheer variety of foods available in Osaka can be overwhelming. A great way to get an overview of the culinary scene before embarking on your own explorations is to take a food tour through one of the city's foodie hot spots, areas such as Tenma, Kyobashi, and Namba, each with its own markets, food stalls, and restaurants worth exploring. With a local guide, you'll see and try things you might otherwise miss and learn more about local culture and cuisine along the way.
What is a Bento Box
Like elsewhere around Japan, fast food in the Kansai region comes in the form of bento boxes. Convenience stores and dedicated bento establishments serve these both hot and cold. For a quick lunch, bento boxes are as local and quintessential Osaka as it gets.
How to Enjoy a Kappo-Style Meal
High-end cuisine called kappo has become incredibly popular in Osaka. In this style of eating, the chef prepares made-to-order food in front of the customer. Kappo-style restaurants are typically small and intimate with seating around a small bar where the chef works.
Ways to Try Your Hand at a Cooking Class
Recreating Osakan food at home doesn't have to be intimidating. Demystify your favorite Japanese food by taking a cooking class in Osaka. Options range from a small-group afternoon sushi making with a professional sushi chef to an in-home cooking lesson featuring five traditional dishes, each made from scratch.
Read More
Show Less
Did you know?
You can reserve your spot today and pay when you're ready.
You can reserve your spot today and pay when you're ready.
Learn more