Top Temples and Shrines in Osaka
By Viator, December 2017
Osaka may pack more bars and restaurants in a few square miles than ancient historical sites, but that doesn't mean it can't compete with its UNESCO World Heritage site-laden neighbor. Osaka boasts the first Buddhist temple in Japan, a famous shrine bridge, and small religious sites in charming off-the-beaten-path locations. Finding the temples and shrines in Osaka requires a little more effort than in Kyoto, but the reward is a rich cultural experience in one of Japan's most modern cities.

Shitennoji Temple
The first Buddhist temple in Japan, Prince Shotoku—who is credited with bringing Buddhism to Japan—began construction on Shitennoji in the 6th century. Dubbed the "Buddhist altar of Osaka," the temple was strategically built near Osaka Bay to showcase the city's power and prosperity to the world. While the temple has undergone numerous reconstructions over the centuries, the design stays true to the original concept. An impressive pagoda stands tall behind the temple, and a Zen garden rests a short walk away. The temple is open year round, and admission costs 300 yen ($3USD).

Sumiyoshitaisha Shrine
Famous for its purely Japanese architecture and beautiful arched bridge entrance, Sumiyoshitaisha is one of Japan's oldest shrines, founded in the 3rd century. Japanese flock to the shrine for New Year's Day, a time to pay homage to ancestors and pray for good luck and fortune for the New Year. The stunning, red Sorihashi Bridge arches over a pond, making it one of Osaka's most photogenic spots.

Hozenji
Escape the neon lights and crowds of Osaka's entertainment districts and retreat to Hozenji, a small temple built in 1637. This peaceful refuge attracts few visitors. Dedicated to one of the five Wisdom Kings who guard Buddhism, the temple feels cozy, quaint, and well, protected. The temple rests on a narrow stone lane with small shops and cafes lining the entrance.

Osaka Tenmangu Shrine
Although Osaka Tenmangu Shrine is one of the most important Shinto shrines in Japan, its claim to fame resides in its Tenjin Matsuri festival. One of Japan's top three festivals, the festival worships the shrine's deity by parading a heavy structure of its likeness through the city. Tenjin Matsuri takes place on July 24 and 25 annually. The shrine attracts devout locals year-round, however, who come to the shrine to pray primarily for academic success.

Isshinji Temple
Unofficially known as the "Temple of Buddha Statues Made of Dead People's Bones," Isshinji Temple is famous and unique for its graves and impressive mausoleum that houses ashes of prominent Japanese Buddhists. As the moniker suggests, visitors will also see statues made from the bones of the dead. Isshiniji dates back to 1185. If the bones and graves didn't capture your attention enough, two other attractions are the temple gate and the Hiso-den building, designed by one of the temple's head priests.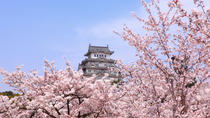 59 Reviews
Go for a stroll through Osaka and see its highlights on this guided walking tour, including a 1-hour river cruise on the Aqua Liner. You'll enjoy lunch and ... Read more
Location: Osaka, Japan
Duration: 6 hours (approx.)
3 Reviews
See Osaka at your own pace by bus and cruise with this 2-Day hop on hop off tour. Explore Osaka's most popular sights, such as Osaka Castle, Shitennoji ... Read more
Location: Osaka, Japan
Duration: 1 to 2 days
1 Review
This is your tour if you demand both the big sights, as well as a walk on the local side. Your guide will be a native English speaker who also speaks Japanese, ... Read more
Location: Osaka, Japan
Duration: 4 hours (approx.)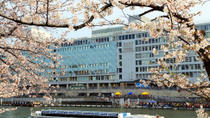 42 Reviews
Combine the best of Osaka on this half-day walking tour in the afternoon. With your expert and friendly guide, explore Osaka Castle — the city's best-known ... Read more
Location: Osaka, Japan
Duration: 4 hours (approx.)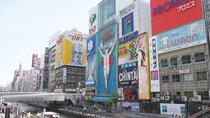 2 Reviews
See Osaka your own way by chartering a private vehicle. Choose a limousine, van, or bus, and create your own 8-hour sightseeing tour. Learn about Japanese ... Read more
Location: Osaka, Japan
Duration: 8 hours (approx.)
41 Reviews
See and experience the unique and fun Osaka in 3-hours! You will have a chance to walk through nostalgic neighborhood, eat delicious Osaka local food and meet ... Read more
Location: Osaka, Japan
Duration: 3 hours (approx.)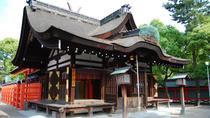 2 Reviews
Osaka is a bustling city chock full of "big city" things to do, but there's another side to it as well. This tour takes you from your hotel to notable ... Read more
Location: Osaka, Japan
Duration: 7 hours (approx.)