1 Review
Address:

11 Aviation Parkway, Ottawa K1K 2X5, Canada

Hours:

10am-5pm

Admission:

Adult $13, Children (3-12) $8, Students (13+) and Seniors (60+) $10
Canadian Aviation and Space Museum Tours
Ottawa is blessed with a number of great museums, but one of them really stands out: the Canadian Aviation and Space Museum. From the moment you walk in and see the old Snowbird plane dramatically suspended in midair, you realize why this place is called one of the most interesting museums in the world. Over 130 aircrafts present a comprehensive history of Canada's aeronautical achievements, ranging from an old Silver Dart, the first airplane to fly in Canada, to the Canadarm, a robotic arm that made Canada a partner in the International Space Shuttle Program. Basically, the Canadian Aviation and Space Museum is a gigantic hangar filled to the brim with planes hanging from the ceiling and parked on the ground, but there are some interactive elements as well. A full-motion Redbird flight simulator normally used to train pilots lets you control an aircraft first hand and makes you realize that flying isn't as easy as it looks.
One of the better kept secrets of the museum is that apart from the main hangar, there is actually a second building that almost no one bothers to see. In this storage facility, the whole rest of the collection is housed – that includes anything from planes that are still being restored to different artifacts such as wing tips. Tours to this reserve hangar are available if you ask at the front desk. You won't be disappointed, visiting this part of the museum is a bit like treasure hunting through an old attic, as nothing is labeled and the place has a less polished feeling.
Are you ready to don a flying cap and goggles and make your dream of flying in an old plane come true? If you are adventurous and happen to visit during the spring and summer months, you can book a flight over the capital in an old vintage biplane circa 1939.
Practical Info
The Canadian Aviation and Space Museum is open year round. From May 1 to September 1, the opening hours are 9am to 5pm and in the fall and winter months, the museum opens from 10am to 5pm, except on Tuesdays, when it is closed. The museum is located about 15 kilometers outside of downtown along the Ottawa River and to get there, take the OC Transpo Route 129 or visit by car.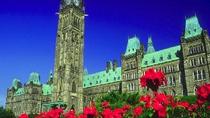 74 Reviews
See all the sights of Ottawa on a hop-on, hop-off bus tour of Canada's capital city. You'll learn about the history of the region from your bilingual tour ... Read more
Location: Ottawa, Canada
Duration: Varies