Famously dubbed the City of Dreaming Spires by poet Matthew Arnold, Oxford's skyline is undeniably picturesque, and the city has so many memorable landmarks and monuments that it can be hard to know where to start. Discovering Oxford's historic architecture is a top pastime of visitors to the city, with beautifully preserved buildings dating back as early as the Saxon period and spanning a vast range of architectural eras.
The city's most famous asset is the prestigious Oxford University, and magnificent college buildings, libraries and museums can be found in every corner of the city. Christ Church College is among the most visited, home to Oxford's Cathedral, while the nearby Magdalen College is known for its 15th-century stonework and striking bell tower, and the legendary Ashmolean Museum is the city's finest neoclassical building.
Oxford alumnus and great British architect Sir Christopher Wren also left his mark on the city, creating some of the university's most iconic buildings. The Sheldonian Theatre, built in 1664 and inspired by the Roman Theatre of Marcellus, was his second-ever commission, but he later designed the distinctive Tom Tower at Christ Church College and the library at Trinity College.
Other notable university buildings include the Bodleian Libraries, which include the Duke Humphrey's Library, the medieval Divinity School and the circular Radcliffe Camera, the masterwork of architect James Gibbs, alongside modern designs like the Grade I-listed St Catherine's College by Danish architect Arne Jacobson and James Stirling's Grade II-listed Florey Building, both built in the latter half of the 20th century. The modernist glass and steel-fronted New Biochemistry Building is one of the most recent additions, built in 2008.
Additional highlights of Oxford's architecture include the Saxon Tower of St Michael at the North Gate, Oxford's oldest building dating back to 1040; the 11th-century St George's Tower, the last vestige of Oxford Castle; the Church of St Mary, which is known for its 14th-century Gothic spire; the elegant Georgian townhouses along Beaumont Street; and the Neo-Jacobean Town Hall.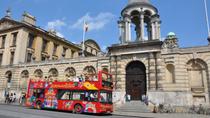 38 Reviews
Discover the beautiful city of Oxford with a City Sightseeing hop-on hop-off bus tour. An easy and convenient way to travel between sights, your ticket offers ... Read more
Location: Oxford, United Kingdom
Duration: 24 or 48 hours
232 Reviews
See top filming locations from the award-winning 'Downton Abbey' television series on a full-day tour from London! After touring Oxford, enjoy a walking tour ... Read more
Location: London, United Kingdom
Duration: 10 hours (approx.)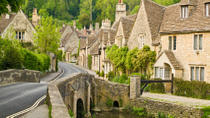 103 Reviews
Escape London for two days on a small-group overnight tour to the Cotswolds, Bath and Oxford. Visit small, beautiful towns where it seems as if time has stood ... Read more
Location: London, United Kingdom
Duration: 2 days (approx.)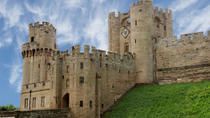 331 Reviews
See some of England's famous towns and castles on this full-day trip from London. Visiting Oxford, you'll enjoy a city walking tour and see the elegant ... Read more
Location: London, United Kingdom
Duration: 11 hours (approx.)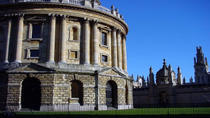 65 Reviews
Begin the day traveling across the Chiltern Hills to Oxford, the "City of Dreaming Spires", whose hushed courtyards and elegant, dignified timeworn ... Read more
Location: London, United Kingdom
Duration: 10 hours (approx.)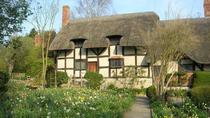 9 Reviews
See the highlights of the 'Heart of England' on a 5-day tour from London. Traveling with an expert guide, visit famous landmarks that are dotted about ... Read more
Location: London, United Kingdom
Duration: 5 days (approx.)