Vucciria Market (La Vucciria) Tours
There are a few outdoor markets in Palermo that are worth exploring - for the atmosphere as much as any actual shopping you want to do - but the most famous is the Vucciria Market in the city's historic center.

The Vucciria Market is located in the historic center in the streets around the Piazza San Domenico, and the stalls that line the streets are predominantly selling fish, meat, and produce. While these kinds of outdoor markets used to be where all the locals did their shopping, the rise of all-in-one grocery stores has meant that some of these markets no longer draw the crowds they used to. The Vucciria Market is as much a tourist attraction as it is working market these days, so it can be busy in the high season - although many of those people are tourists, not shoppers.

The name "Vucciria" comes from the Sicilian word for "voices," a reference to the noise level in a busy market such as this one. In addition to the seafood and produce that have been staples of the Vucciria Market for hundreds of years, vendors also sell a huge variety of other things you might need to stock your pantry or (in more recent years) the rest of your house. You can find everything from pasta and herbs to cheap clothing and CDs.
Practical Info
As with any busy outdoor market, pickpockets can be a problem in the Vucciria, so keep your belongings safe as you wander. The market is open Monday-Saturday from dawn until roughly 2pm, and the morning is the best time to see it at its bustling best.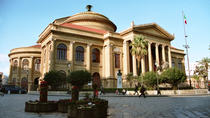 3 Reviews
Walking through the wonders of the historic center of Palermo to take in the scents and colors of the old markets is a fantastic experience. Observe places and ... Read more
Location: Palermo, Italy
Duration: 3 hours (approx.)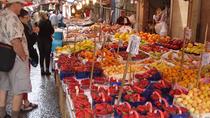 1 Review
Medieval mafia, saints and sinners: the characters of Palermo have always been a colorful bunch. Hear stories about the individuals who left their mark on the ... Read more
Location: Palermo, Italy
Duration: 2 hours 30 minutes (approx.)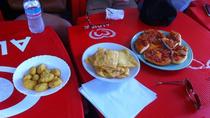 38 Reviews
Enjoy and taste the street food in the old markets of Palermo observing people, products, colors and characters from another time. The smells and the flavors ... Read more
Location: Palermo, Italy
Duration: 3 hours (approx.)