There's enough going on in Palermo to keep most visitors entertained for several days - particularly if the weather is nice and there's time set aside for sunbathing on the beach - but if you'd like to get outside the city and explore something of the surrounding area, then here are some good day trip options from Palermo.

Mondello Lido

It's a bit of a stretch to call Mondello Lido a "day trip from Palermo," since this beach is considered part of the city and is only a few kilometers away from the city center. Mondello Lido is Palermo's most popular beach, and is frequented by Palermitans who take advantage of any free time during the summer to head for the closest beach. It can be a nice place to relax after a morning of sightseeing, or you can make it a bona fide day trip and spend all day there.

Monreale

On the slopes of Monte Caputo overlooking Palermo is the town of Monreale, best known for its gorgeous cathedral. The Monreale Cathedral dates from the 12th century and the interior is decorated with some of the finest Byzantine mosaics you'll see anywhere. Nearly every wall and ceiling surface is covered with gold and brightly colored mosaics.

Cefalu

About an hour along the coast from Palermo is the seaside resort town of Cefalu, one of the prettiest seaside towns in Sicily. The historic center is lovely and ideal for exploring on foot, but the biggest draw in town is the beach. It's nicer than the one at Mondello Lido, and is popular with Sicilians and visitors - in the summer, Cefalu's beach can get absolutely packed. You can extend your day trip into the evening to enjoy Cefalu's nightlife, too.

Segesta

Sicily is home not only to Ancient Roman ruins, but Ancient Greek ruins as well. In Segesta, about 1.5 hours away from Palermo, you can visit the ruins of a Greek temple that dates from the late 5th century B.C.E., as well as a Greek theatre. Other archaeological excavations in Segesta have revealed a 12th century mosque and Muslim necropolis.

Erice

The medieval city of Erice, near Trapani about 2 hours from Palermo, sits on top of Monte Erice. The historic city, built on the site of the Phoenician city of Eryx, offers lots of medieval cobblestone streets to explore and great views over Trapani and the Mediterranean Sea. There are two castles to visit, and you can see part of the old Phoenician wall. There's also a cable car that runs from Erice down to Trapani from late spring through early winter, so you can check out the western coast of Sicily, too.

Marsala

You may be familiar with the name Marsala because of the fortified wine of the same name that is produced in this area. Sampling this wine in Marsala is a good idea (some say the best stuff never gets exported), but that's not the only thing to do in Marsala. There are several churches you can visit, including the 17th century cathedral, and the city is right next to a nature reserve with salt ponds called the Stagnone Lagoon.

Ustica

The volcanic island of Ustica sits about 35 miles off shore from Palermo, and is famous for its great diving conditions. There are several grottoes you can explore either by boat or by snorkeling, lots of places for relatively deep dives, and diving schools and diving tour companies that will help you see the island's underwater attractions. There's also the excavated remains of a Bronze Age settlement dating from the 14th century B.C.E.

Aeolian Islands

There are eight islands in the archipelago that makes up the Aeolian Islands, which are located off the northeastern coast of Sicily. The largest is Lipari, and both Vulcano and Stromboli are active volcanoes. Not all are equipped for overnight visits, but some are great for a day trip from Palermo - especially during the summer when the beaches of Sicily have gotten too crowded.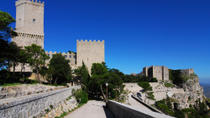 38 Reviews
Discover the best of western Sicily on a day trip to Erice and Segesta from Palermo. Be wowed by the views from Erice, a walled medieval mountain town that ... Read more
Location: Palermo, Italy
Duration: 8 hours (approx.)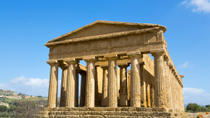 20 Reviews
Leave Palermo behind for a day trip to Agrigento, home to Sicily's most fascinating archaeological area. Visit the Archaeological Museum of Agrigento, where an ... Read more
Location: Palermo, Italy
Duration: 10 hours (approx.)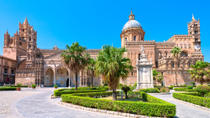 15 Reviews
Visit Palermo and Cefalù on a day trip from Taormina, and discover stately Arab-Norman architecture, impressive churches and piazzas with Sicilian charm! ... Read more
Location: Taormina, Italy
Duration: 13 hours (approx.)