There's no better reason to celebrate than an anniversary, and a 100th one leaves you with no excuses. The iconic waterway known as the Panama Canal opened to ships in 1914, and now, with more than 10,000 passing through each year, is a great time to make your way to Panama.
A testament to human determination, this practical shortcut between the Atlantic and Pacific Oceans involved a massive project of cutting a watery pathway right through a continent to build not only the largest dam ever, but also a massive system of canal locks. Since the S.S. Ancon became the first boat to sail the locks in 1914, about 1 million other ships have since passed through on the same route. The canal is currently undergoing an expansion to double its capacity, which should be completed in 2015.
Centennial Celebrations
Panama as a whole has lots for visitors to do—explore ancient civilizations, relax on white sand beaches or delve into exotic ecological destinations—but this year holds special activities for visitors. Concerts and theater presentations are planned, as well as museum, photography and art exhibits to commemorate the canal and its impact on the world. There are even canoe races to paddle right through the Panama Canal.
The Miraflores Visitors Center is offering free admission on Saturday nights with music and live performances, historical characters, a 3D movie, fireworks and exhibitions. But it all culminates in August with a Panama Canal centennial party of music and art to review the legacy.
Ways to see the Panama Canal
There are many ways to experience the essence of the Panama Canal at this historic time, whether it's by way of cruise ship, a guided visit to the locks or a scuba adventure. The Miraflores Visitors Center has a museum and exhibition center that tell stories of the canal and the amazing engineering that went into it, as well as spectacular views of ships passing through the locks. A visit here can be combined with a Panama City sightseeing tour.
If you'd like to get a bit more adventurous, you can actually board a vessel and live the experience of being aboard a ship that gets lifted and lowered through the series of locks along the scenic route. There are one-hour cruises along the canal to the Miraflores Locks, where you'll feel the ship being raised up to 54 feet as the lock chamber is filled with water, before it continues on to the next lock. There are also longer trips that take you through the whole canal from one ocean to the other. The most unique options is to head out in scuba gear to see submerged infrastructure from the construction of the Panama Canal.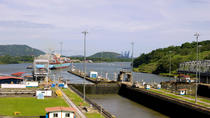 136 Reviews
See for yourself how the Panama Canal works as you transit the Miraflores Locks, one of three locks used along the canal. The construction of the canal was one ... Read more
Location: Panama City, Panama
Duration: 6 hours (approx.)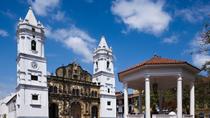 117 Reviews
See the best of Panama City — from sea level to hilltop, canal to islands — on this full-day sightseeing tour with a knowledgeable local guide, who will regale ... Read more
Location: Panama City, Panama
Duration: 7 hours 30 minutes (approx.)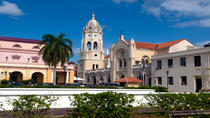 40 Reviews
Enjoy a guided sightseeing tour and visit the most important sites and landmarks of Panama. Tour both the historical and modern areas of Panama City and visit ... Read more
Location: Panama City, Panama
Duration: 4-7 hours