Eiffel Tower & Moulin Rouge
By Viator, February 2017
Hit the heights of the City of Light! Paris puts on a dazzling evening show in three sensational acts full of romance, passion and spectacular entertainment.

Prelude: you won't get time to head to the top of the Eiffel Tower tonight, so why not head there during the day and experience the amazing sight of Paris laid out before you?

Act one: Sky-high dining at 58 Tour Eiffel, the restaurant on the first level of the Eiffel Tower. The sensual curves of the restaurant's interior perform a duet with the robust right angles of the tower all around you. There's classic French cuisine on the table and breathtaking views from the pictures windows, with the majestic Trocadero on one side and the Seine on the other. Imagine how nice it must be to cruise along the river gazing at the city's floodlit monuments…

Act two: Imagine no more! Because next up is a river cruise which shows the center of the city in a whole new way, full of drama and suspense. Like an old diva, Paris really turns on the charm when you shine the lights on her. See the show-stopping expanse of the Louvre, the fairy-tale Medieval turrets of the Conciergerie and the Gothic masterwork that is Notre Dame.

Act three: Of course you weren't going to come all the way to Paris without seeing the kind of gala presentation for which Paris is famous, and nothing but the most prestigious show of them all will do: the Moulin Rouge, one of the most famous nightspots in the world and home of the can-can. High-kicking dancers in feathers and rhinestones set the tone – risqué but never vulgar. Relax with fine French champagne and enjoy cabaret at its finest until the curtain comes down on your unforgettable Paris night. Encore!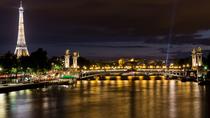 2272 Reviews
Enjoy a memorable night out in Paris by combining a visit to the Eiffel Tower and Seine River cruise with a cabaret show at the Moulin Rouge. Enjoy dinner at ... Read more
Location: Paris, France
Duration: 7 hours (approx.)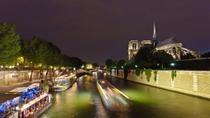 148 Reviews
Dine at 58 Tour Eiffel on the 1st floor of the Eiffel Tower to enjoy panoramic views of Paris followed by a romantic Seine river cruise. Finish the evening ... Read more
Location: Paris, France
Duration: 6 - 7 hrs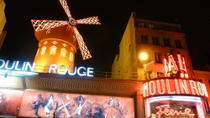 406 Reviews
Enjoy an exciting night out in Paris with dinner at the Eiffel Tower, a Seine River cruise and complete your night with one of the most famous cabaret shows in ... Read more
Location: Paris, France
Duration: 7 hours (approx.)