By Viator, June 2012
No reviews, be the first!
Have you ever gone to a restaurant with a girlfriend, been given a wine menu and sat reading through it as if it were in a foreign language? Well, fair enough, sometimes it is, but it is still a little embarrassing none-the-less. It is never ...
Tours & Tickets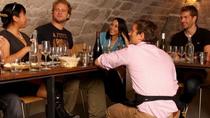 3 Reviews
Grand cru wine tasting is the ultimate French wine-tasting experience. During this 2-hour wine tasting, taste six high-quality wines, including grands crus, ... Read more
Location: Paris, France
Duration: 2 hours (approx.)